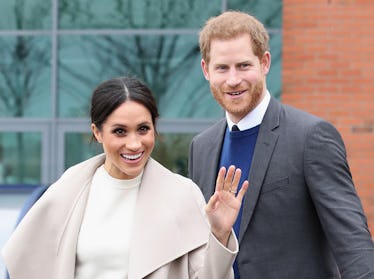 Prince Harry & Meghan Markle Chose Their Wedding Photographer & He's A Familiar Face
Chris Jackson/Getty Images Entertainment/Getty Images
Prince Harry and Meghan Markle's wedding is just over a month away, can you believe?! The couple is set to get married in St. George's Chapel at Windsor Castle on Saturday, May 19, and announcements about the details of the big day have been released slowly but surely by Kensington Palace. Prince Harry and Meghan Markle's wedding photographer was announced on Friday, April 13, in a tweet posted by Kensington Palace, and you're going to love who they chose because you've actually already seen his work!
Harry and Meghan chose Alexi Lubomirski to take their wedding photos at Windsor Castle on May 19. He's the same photographer who took their stunning engagement portraits, and don't even try to tell me you haven't seen those photos and gawked at how beautiful they are at least once. Lubomirski revealed in an interview with E! News on Sunday, April 8 that he and his wife had received one of those coveted invitations to the royal wedding, but at the time of the interview he apparently had not yet been asked to take the wedding photos. Either that, or he wasn't able to reveal that he had been booked for the wedding photos just yet. Kensington Palace confirmed he'd be taking the photos in a series of tweets on April 13 that read,
Prince Harry and Ms. Meghan Markle have selected Alexi Lubomirski to take the official photographs at Windsor Castle following their wedding at St George's Chapel on 19th May. Alexi is a well-known portrait photographer, and photographed Prince Harry and Ms. Markle last year at Frogmore House, Windsor, to mark the news of their engagement.
During his interview, Lubomirski said taking the couple's photos was a "joyful" experience, calling them "deliciously in love." "It was one of the easiest, most joyful jobs because they were so deliciously in love," he said. On how he snagged the gig, he said it happened by chance. "It was nutty," he said. "It was a very surreal end to the year because it came out of nowhere." He continued,
I think one of Meghan's friends saw me on Instagram that I was in England during the announcement of the engagement and I was told later that this person said to her, 'You should meet Alexi. He's great. You'd love him' and that was it.
Lubomirski said the main goal of the shoot was for the photos to show how natural Meghan and Harry's love for each other is. "I think we all agreed that we wanted it to be natural," he said, addng,
What I mean by that is, to show them as they are together. That black-and-white closeup, that's what they were like all day long, but we had to take some more formal pictures of them, you know. But that was the magic that I was going for.
That black-and-white closeup of Harry and Meghan has got to be one of the most beautiful photos I've ever seen. Seriously, I don't think I'll ever be in a picture that stunning and I'm OK with that fact. I don't want to upstage this beauty. That's how much I love that picture.
The interviewer asked if he had been booked to take the wedding photos, but Lubomirski said they had just been invited. "We've been asked to attend the wedding," he said, "which is great, and as for who shoots it, I have no idea." Plot twist! It's him! He's going to be shooting it!
Lubomirski posted Harry and Meghan's engagement portraits to his Instagram on Dec. 21, 2017, to thank the couple for trusting him to take the shots. He said in his post,
A huge thank you to His Royal Highness Prince Harry and Ms Markle, for allowing me to take their official engagement portraits. Not only was it an incredible honour, but also an immense privilege to be invited to share and be a witness to this young couple's love for each other. I cannot help but smile when I look at the photos that we took. @kensingtonroyal
Hey Alexi, since you'll be at the royal wedding now and taking pictures the whole time, do you think you could do an Instagram Live of the whole thing? Let me know.