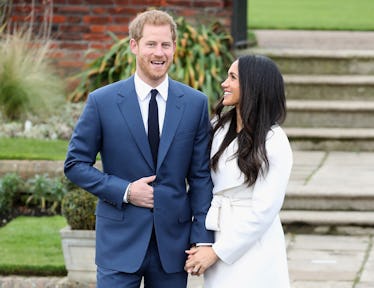 Meghan & Harry's Engagement Photographer Gave New Details About The Shoot & I'm Swooning
Chris Jackson/Getty Images Entertainment/Getty Images
Meghan Markle and Prince Harry's engagement photos were the most fabulous photos I've ever seen in my life, OK? In my life. They look so damn in love in the pictures, and I swoon every time I look at them. Except now, I'm swooning even more because Meghan and Harry's engagement photographer gave new behind-the-scenes details of their engagement photo shoot and it's giving me my whole life.
Photographer Alexi Lubomirski told E! News on Sunday, April 8, that taking Meghan and Harry's engagement portraits was a "joyful" experience because the two are so obviously head over heels for each other. "It was one of the easiest, most joyful jobs because they were so deliciously in love," he said. The only time someone has said I looked "deliciously in love" with something was when they saw me eating a plate of spaghetti. Anyways! Lubomirski also revealed he never expected to land the gig because the opportunity came out of the blue, and he also doesn't do engagement photos. "It was nutty," he said. "It was a very surreal end to the year because it came out of nowhere." He continued,
I think one of Meghan's friends saw me on Instagram that I was in England during the announcement of the engagement and I was told later that this person said to her, 'You should meet Alexi. He's great. You'd love him' and that was it.
The photos Lubomirski took are the Harry and Meghan's official engagement portraits that show the couple walking throughout the grounds of Windsor Castle. You know, the one where Harry has Meghan wrapped inside his coat? Those photos. I sob. Lubomirski told E! News Harry and Meghan's shoot was the first engagement photo shoot he had ever done. He said in the interview that he's "a fashion and portrait photographer," so taking these engagement photos was a first for him. But he said he was so happy with the results and it's mainly because of the couple's love for each other.
He said of the shoot, "I think we all agreed that we wanted it to be natural." He continued,
What I mean by that is, to show them as they are together. That black-and-white closeup, that's what they were like all day long, but we had to take some more formal pictures of them, you know. But that was the magic that I was going for.
And magic he accomplished. Lubomirski hasn't been booked as the wedding photographer, but that's OK. He and his wife got their own invitations to the wedding. (Plz take me with you.) His wife, Giada Lubomirski, told E! News that she was proud of her husband for the photos. "I was so incredibly proud of my husband," she said, "and I couldn't think of anyone better than him because he's a romantic at heart."
Lubomirski posted the portraits to his Instagram the same day Kensington Palace debuted the photos on Dec. 21, 2017. His captions for the photos read,
A huge thank you to His Royal Highness Prince Harry and Ms Markle, for allowing me to take their official engagement portraits. Not only was it an incredible honour, but also an immense privilege to be invited to share and be a witness to this young couple's love for each other. I cannot help but smile when I look at the photos that we took. @kensingtonroyal
Lubomirski is known for his portraits of celebrities like Julia Roberts, Keira Knightly, Gloria Steinem, and more, according to E! News. And now he can add the pretty freaking impressive "Prince Harry and Meghan Markle Engagement Photographer" bullet to his resumé.