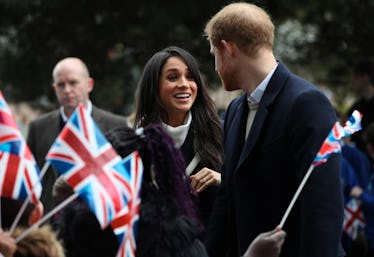 23 Instagram Captions For Pimm's Cup Pictures Toasting To The Royal Wedding
WPA Pool/Getty Images Entertainment/Getty Images
Did you hear the wedding bells? It's almost time to break out your best tea and scone recipe, because the royal wedding is coming up in just a few short weeks. On May 19, Meghan Markle and Prince Harry will say, "I do," and I'm already blushing from the other side of the television screen. I remember when Kate Middleton and Prince Harry got married, and how the whole day just felt magical. This time around, we're going to celebrate once again, and maybe throw a party in total princess style. These Instagram captions for Pimm's Cup celebrations will be perfect for showing off those royal wedding festivities on your feed. Get your tea set ready to toast, because this is bound to be an event for the books.
For those of you who don't know, according to MyRecipes.com, Pimm's Cup is a British cocktail that's filled with fruit and usually savored in the summertime. If you're in the 21 and up crew and want to sip on this sweet drink for the royal wedding, you'll first want to pick up some Pimm's. Then, mix the liquor with Sprite, and add a slice of cucumber, some fruit, and mint leaves on top.
Of course, make sure there are some tissues on hand for the moment you see Meghan Markle in her wedding dress. Personally, I'll be living through all of her princess vibes and probably crying over how the ceremony is picture-perfect. Seriously, post your celebrations on the 'Gram. Something so beautiful deserves to be all over social media, and maybe with one of these 23 captions. *Sips tea, while I still wait for my invitation.*
1. "We were mint to be." — Unknown
2. "Love is in the air." — Unknown
3. "When you realize you want to spend the rest of your life with somebody, you want the rest of your life to start as soon as possible." — When Harry Met Sally
4. "I'll drink to that." — Rihanna, "Cheers (Drink To That)"
5. "Until further notice, celebrate everything." — Unknown
6. "Here's to love, laughter, and happily ever after." — Unknown
7. "Where there is love there is life." — Mahatma Gandhi
8. "[She] followed her heart and created her own little fairytale." — Unknown
9. "All because two people fell in love." —Unknown
10. "Life is a party, dress like it." — Audrey Hepburn
11. "The goal is to laugh forever with someone you take serious." —Unknown
12. "Sip, sip, hooray!" — Unknown
13. "She had a cocktail in her hand, and confetti in her hair." — Kate Spade
14. "Long live the magic we made." — Taylor Swift, "Long Live"
15. "Once in a while, right in the middle of an ordinary life, love gives us a fairytale." — Unknown
16. "There is only one happiness in this life, to love and be loved." — George Sand
17. "Love is like the wind, you can't see it but you can feel it." — Nicholas Sparks, A Walk To Remember
18. "Life itself is the most wonderful fairytale." — Hans Christian Anderson
19. "A toast to the happy couple." — Unknown
20. "And so the adventure begins." — Unknown
21. "You can't buy happiness, but you can buy tea and that's kind of the same thing." — Unknown
22. "Together is a beautiful place to be." — Unknown
23. "Love is old. Love is new. Love is all. Love is you." —The Beatles
So, let's start celebrating. You've probably picked out at least one caption that would be perfect for your posts, and sent your very own invitations to your besties who won't miss your party this May. Maybe you and your crew will even take a royal wedding cruise, where you can be truly treated like princesses. Has anyone seen my crown? Seriously, sign me up. For now, though, we'll stick to cheering on the royal couple-to-be and eating our crumpets with a Pimm's cup on the side.