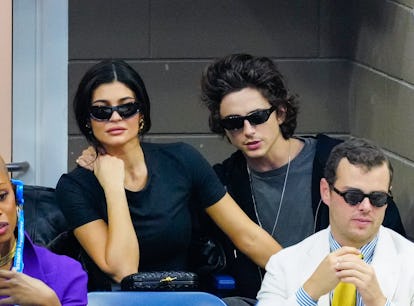 A Full Debrief On Kylie Jenner & Timothée Chalamet's Relationship Timeline
Well, this is cute as hell.
Gotham/GC Images/Getty Images
Love is in the air for Kylie Jenner and Timothée Chalamet — or, at least, it's on her lock screen. On Sept. 21, a photo of Jenner at Milan Fashion Week went viral, and this time, it wasn't for her eye-catching style. Instead, fans noticed that Jenner's iPhone had a sweet dedication to her BF: Her screen saver was a selfie of the two of them.
Still, sources aren't sure Jenner and Chalamet are serious just yet. In August, an insider told Us Weekly that things were "very casual," especially considering their "busy schedules." The source explained, "Kylie and Timothée haven't been spending that much time together recently because they both have very busy schedules. But they're still communicating on a pretty regular basis and have remained friends despite the fact that they don't hang out that often." Per the source, they aren't in a "committed relationship," but she is "having fun."
Here's a full breakdown of their relationship, from DeuxMoi rumors to iPhone background status.