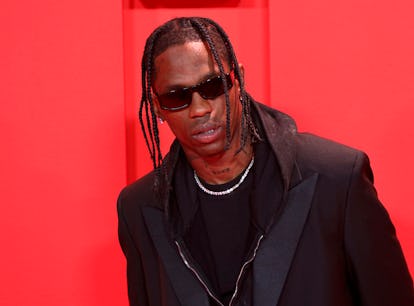 Travis Scott's New Song Seems To Diss Kylie's Rumored BF Timothée Chalamet
Kylie's men are fighting!
Laurent KOFFEL/Gamma-Rapho/Getty Images
Travis Scott's new album, Utopia, features pretty much every single famous artist of the moment, but there's one celebrity who's persona non grata in Scott's perfect world. One of the rapper's new songs appears to take aim at Timothée Chalamet, who is rumored to be dating his ex Kylie Jenner. The Chalamet and Jenner romance has just been speculation for the past several months, but Scott's diss on his new track "Meltdown" could be all the confirmation fans need that the unexpected couple is really dating.
On "Meltdown," Scott and featured artist Drake name-drop plenty of celebrities, from DaBaby to Tom Brady, but the shadiest bar is a nod to Chalamet's next big movie role. At the end of his second verse, Scott raps:
"Chocolate AP and chocolate the Vs (Vs), got the Willy Wonka factory (Vs) / Burn a athlete like it's calories, find another flame hot as me, b*tch."
The Willy Wonka reference right before calling out an ex who's moving on with a new man seems very pointed. Chalamet is starring in the Willy Wonka and the Chocolate Factory prequel Wonka, which hits theaters this winter. He's also been spotted getting close with Scott's ex Jenner for the past several months, following rumors they were dating that first arose back in April.
Scott and Jenner have had an off-and-on relationship for several years, but the rumors of her seeing Chalamet are the first time she's really been romantically connected to someone else ever since she first started dating Scott in 2017. Though Jenner and Scott broke up a few different times in their six years together, they've committed to co-parenting their two children, Stormi and Aire, together. The couple is currently broken up, confirming they had split at the beginning of 2023.
Though Jenner and Chalamet have been rumored to be an item for over three months now, they have yet to officially confirm or deny what's going on between them. But, it sounds like Scott may have just done it for them. Only time will tell if Chalamet or Jenner responds to the diss in some way, or if they continue to stay silent on those dating rumors.