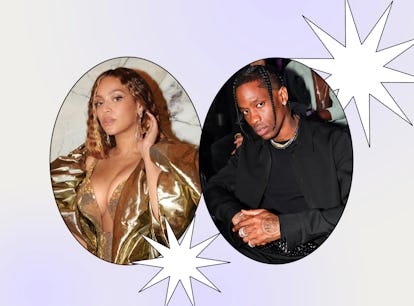 Did Beyoncé Just Tease What Renaissance Act II Will Sound Like?
Her "Delresto (Echoes)" track with Travis Scott might be more layered than fans thought.
Mason Poole/Parkwood Media/Getty Images/Astrid Stawiarz/WireImage
This summer has had tons of surprising moments from celebrities, and this new collaboration from Beyoncé and Travis Scott fits the category. On July 28, the two Houston stars joined forces on "Delresto (Echoes)" from Scott's latest album, Utopia. This duet is a sonic standout on the rapper's album, which teeters between Mike Dean-clad synths and gritty elements similar to Kanye West's Yeezus and The Life Of Pablo. Interestingly, "Delresto (Echoes)" doesn't rely on either of those arrangements. The production feels like a rich extension of Beyoncé's Renaissance album, and this direction has fans on Twitter convinced the singer's teasing Act II of her album.
Before Beyoncé released the house-inspired album on July 29, the singer revealed Renaissance will be a trilogy of acts. "This three act project was recorded over three years during the pandemic," Beyoncé wrote in a statement at the time. "A time to be still, but also a time I found to be the most creative. Creating this album allowed me a place to dream and to find escape during a scary time for the world."
Similar to the absence of visuals from Act I, Beyoncé hasn't offered any more details about Act II. This had led fans to create their own theories about what the next installment will sound like. Many fans believe she'll continue her love letter to house and ballroom culture in the forthcoming act, and that's where "Delresto (Echoes)" comes in.
The nearly five-minute track is a chaotic, yet intriguing blend of sounds from Beyoncé's last few releases. As the production eases in, those background "ah's" sound eerily similar to the melodic vocals on her 2020 album Black Is King. Beyoncé kicks off the track with a rap-talk verse, flaunting her heavy bank account while stepping into a ballroom. Sounds familiar? Think "Alien Superstar," but a tad more subtle. She then steadies the rhythmic track with the chorus, which sees her borrowing elements from "Haunted" off her 2013 self-titled album.
All in all, this offering feels like it could've been a bonus track on Renaissance, rather than a collaboration with Scott. Shortly after "Delresto (Echoes)" dropped, fans noticed Beyoncé added the song as a single on Apple Music. However, this track was never promoted as a single, but dropped in full with Scott's Utopia. Fans also noticed the single's artwork, which features a stack of newspapers boasting headlines such as "The Echo" and "America." Hm, is this a nod to "America Has A Problem?"
This only added to users' theories that this song is connected to Renaissance, as the singer reportedly used elements of the single artwork as visuals on her current tour.
Besides these subtle hints to Renaissance, fans of both artists were surprised by this track's release. From the dizzying production to Beyoncé's haunting melodies, "Delresto (Echoes)" does have an acquired taste. And by the reactions on Twitter, some fans seem split on the vision.
While this collaboration was sudden, the two artists sound perfectly in sync on the track.
The production on this duet *screams* underground ballroom.
Though it hasn't been confirmed if "Delresto (Echoes)" is a nod to Act II, fans are convinced it is.
There's definitely superb traces of gritty, almost atmospheric R&B on this new release. With that said, it wouldn't be surprising to hear Beyoncé fuse that sound with funk on Act II.
Scott's Utopia is available now.