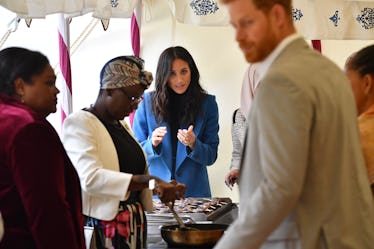 Prince Harry Sneaking Food At Meghan Markle's Cookbook Event Is Relatable AF
WPA Pool/Getty Images Entertainment/Getty Images
For a while there, it looked like Prince Harry and Meghan Markle were putting their pre-wedding PDA (not forbidden, but frowned upon by the royal crowd) and all-around candid moments behind them as they tried to conform to royal protocol after their May nuptials. But now that the Duke and Duchess of Sussex are a couple months into their new roles, they're relaxing a bit on the whole royal etiquette thing and just being their totally relatable selves again. Case in point: This video of Prince Harry sneaking food at Meghan Markle's cookbook event is circling the internet, and it's making everyone say, "Same." Because who wouldn't want to stash away a samosa or two if given the chance?
On Thursday, Sept. 20, Prince Harry played proud husband as Markle celebrated the launch of her charity cookbook benefitting victims of London's tragic Grenfell fire while mobilizing women and girls through the Hubb Community Kitchen project. The Together: Our Community Cookbook is in line with the work the Duchess has done to empower women before she became a royal, and it was exciting to see her helm one of her first solo charity projects just a few months in. As the pair rubbed shoulders and mingled with their party guests at Kensington Palace, the cameras caught Prince Harry in a not completely royal — but totally relatable — situation.
Being around plates of steaming food and talking about food (it was a cookbook launch, after all), Prince Harry couldn't resist the munchies and apparently decided to snag a few samosas and hide them behind his back.
Per ET Online, ITV reporter Chris Ship documented the moment, which shows the royal walking with his hands behind him and a decidedly guilty look on his face. A closer look revealed that the mischievous royal had been caught red-handed with his hands in the (samosa) jar, and his "nothing to see here" expression is peak Prince Harry. TBH, it's hilarious, and I can't stop re-watching it.
#SamosaGate2018 wasn't the only moment that fans can't stop obsessing over. The internet totally lost it when Ship took to Twitter to share a simple but totally heartwarming ~ interaction ~ between the two lovebirds: Prince Harry oh-so-casually tucking his wife's hair back from the wind and the two beaming at each other like the newlyweds that they are. If we needed any proof that the pair are still very much in honeymoon mode, the former Suits actress's face, totally lit up by love and happiness says it all.
I'll admit that there was a time there where I thought Prince Harry and Markle would go the way of Prince William and Kate Middleton and cease all outwardly romantic expressions of love in public. Who can forget that cringy moment when Prince Harry totally rejected Meghan's attempts to hold his hand at the Young Leaders Reception? Luckily, it looks like they've put those days behind them, and have fed into royal mania by locking lips in a seriously steamy makeout at the 2018 Sentebale Polo and blessing us with their loved-up body language. Now, Prince Harry attempting to sneak food is just one more reason I love the totally relatable couple.