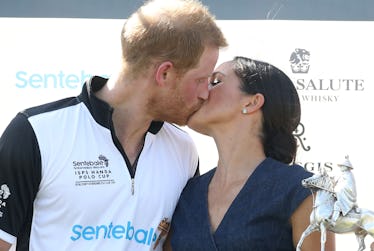 Hold Onto Your Fascinator, Harry & Meghan K-I-S-S-E-D In Public & It's Steamy
Chris Jackson/Getty Images Entertainment/Getty Images
For those of you who thought the juicy part was over the moment the Duke and Duchess of Sussex tied the knot, I've got some news. Apparently, a royal marriage isn't doing anything to cool off the major steam coming from these newlyweds. So much so that the two were spotted — get this — locking lips at the 2018 Sentebale Polo. Don't believe me? There are photos to prove it, and according to an expert, Prince Harry and Meghan Markle's body language during a kiss is nothing short of magical.
This kiss is a big deal because it's obvi adorable and heartwarming, but also because kissing publicly isn't something the royal family typically does. While PDA isn't totally against the rules, it's definitely frowned upon. "The queen rarely holds hands with her husband in public and this seems to have set an unwritten precedent for the other royals," body language expert Robin Kermode explained to the Daily Mail. Other royal couples, such as Prince Charles and Camilla, Duchess of Cornwall, and Prince William and Kate, Duchess of Cambridge, have followed in Queen Elizabeth's footsteps. For a second there, I got worried Harry and Meghan were going to do the same.
No, seriously. After The Sun released a video of Harry rejecting Meghan's attempt to hold his hand at the Young Leaders Reception, I got worried that maybe the married couple was going to put their PDA days behind them. But these pictures prove they most definitely are not.
I asked Patti Wood, author of SNAP: Making the Most of First Impressions, Body Language, and Charisma, to share her thoughts on what we can really learn from their relationship based on the steamy kiss.
"It's a nice passionate kiss," she tells Elite Daily. "One of the things that I like is the look you can see [even] with her eyes closed, the way she holds her chin up, and her whole face towards him like that... She's giving herself blissfully to him."
"I also like how she's tucked in underneath his arm like that," she continues. "See how her shoulder is tucked underneath his arm? So they're already joined at the bodies. They're already joined, and she's up underneath, and he's up and around on top of her, so this is a double joining, which is very nice."
Next, Wood draws our attention to a seemingly NBD group picture the couple is included in.
She explains that this photo is worth looking at for a few reasons. "One is that she's up underneath his arm there, and that makes him the strong man," Wood says. "He's specifically the strong man, see how he has the strong man arm up to hold the trophy? So the look that she's giving him is, 'Oh, look, he's my big strong man.' The look is a gaze of, 'There's my strong man hero.'"
"There's a little bit of a sexual tension with them," she continues. "If you look at the lean, see the lean that he has in that lower torso? His hip is leaning on her hip, so they have that wonderful hip connection, but the mutual gaze and the way her cheeks are lifted up in that gaze... There's a lot of heat in that."
She also points out the fact that her arm is in her pocket. "See the arm block she has with her hand in her pocket for the other guy? OK, he's got his full body, all of his body windows are open towards her, and she's facing towards the camera — she has to — but that arm block with the hand in the pocket shows it's all about [her] man," Wood notes.
For those of you who are sticklers for the rules, don't worry. The two aren't necessarily breaking any with their PDA. "There is no protocol that says they cannot show affection on official engagements, and this gesture makes them relatable and lovable to the public," royal etiquette expert Myka Meier told People. And, luckily for royal fans, these two can't keep their hands (or faces) off each other.