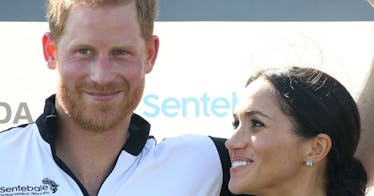 Meghan Markle & Prince Harry Showed Major PDA Today & The Photos Will Make You Swoon
Chris Jackson/Getty Images Entertainment/Getty Images
Sometimes, you just need a little bit of good news to turn your day around. Maybe you read that April the giraffe is pregnant again. Maybe your train had no delays getting into work today. Maybe the Starbucks barista actually spelled your name correctly. It's the little things in life, you feel me? And what can make a day any better than seeing two people young and in love? To make things even more enticing, what if those two people were British royalty, and rarely show any form of PDA (because of said British royal protocol)? Let me assure you that these photos of Meghan Markle and Prince Harry kissing will actually make your day. Hell, they will probably even make your week. Yes, they are that cute.
The newlyweds attended the Sentebale charity polo match which, according to Cosmopolitan, "benefits Harry's charity Sentebale, which he started in 2006 to help children in Africa who are suffering from the AIDS epidemic." You know what they say, couples that do good things for humanity together, stay together.
After the match was over, the winners stood on the podium to receive their trophy. Perhaps this is a great time to tell you that Prince Harry was in the match, and was on the winning team, and I'm here to let you know that he and his teammates looked cute AF:
Now, as much as I can go on and on about how fantastic this photo is (the matching polo outfits! Meghan Markle! Meghan Markle's denim dress — that has POCKETS!), let's focus our attention on Meghan and Harry for the next few images.
First, we see Meghan Markle smiling proudly at her polo champion:
Then, the couple was presented with the award, which looks regal AF:
The trophies I used to get were typically made of plastic and usually had at least one spelling error engraved, but I digress.
But instead of taking the trophy, Meghan Markle and Prince Harry decide that this was the perfect opportunity for a full-on kissing sesh:
Look at them lockin' lips! This was clearly no quick peck, y'all (or maybe it was, but a girl can dream, right?):
Is it getting hot in here? I feel like it's getting a little hot in here:
My favorite part is that you can clearly see the guy casually holding the trophy, wondering what the hell he should be doing, probably wondering, "Uh, should I move out of the frame, or...?"
It's fine, guy. Because let me tell you this: Not a single person was looking at that trophy in these pictures, if ya know what I mean.
While PDA is typically frowned upon when it comes to British royalty, there aren't exactly any concrete rules against it in royal protocol, so it looks like Harry and Meghan are really loving finding all of the little loopholes that are presented to them.
I mean, can these two just go and make some royal babies already?!
Royal expert and author of Harry: Life, Loss, and Love Katie Nichol told ET that Prince Harry wants to start having kids with Meghan like, yesterday. "My sources are saying that Prince Harry, particularly, is very keen to start a family, pretty soon after the royal wedding," Nicholl said, adding, "He's made no secret about wanting children."
While I'm pumped at the thought of adding more kids to the royal brood, I'm totally cool with simply seeing more photos of Meghan and Harry kissing for the time being. Time's a-tickin', though!