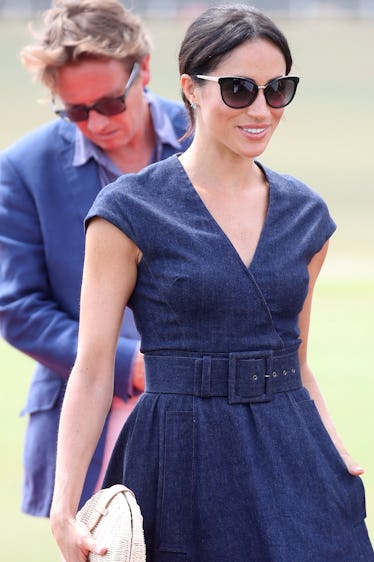 Meghan Markle Just Wore A Denim Dress & Completely Shook Up The Royal Style Game
Chris Jackson/Getty Images Entertainment/Getty Images
When you think of royal style, blue jeans probably don't have a place among the designer dresses and sculpturesque fascinators that come to mind, am I right? Thanks to Meghan Markle's denim midi dress, which the Duchess of Sussex wore to a polo match earlier today, that soon might change. Before you start to get overly excited in thinking that Markle stepped out in a skin-tight jean mini dress a la Bebe or or Guess, let me first tell you that the look retained a silhouette and cut similar to other pieces she has worn. Its denim material, however, is almost certainly a first for Markle since gaining royal status.
If you've been following the extremely packed schedule of Markle and Prince Harry since their wedding then you likely already know that Harry has participated in a series of philanthropic polo matches as of late. On June 30, Harry played in the Audio Polo Challenge in Ascot, England as Markle watched on. For that sporty occasion Markle chose a button-up gingham dress by Shoshanna and a black and white Madewell x Biltmore Panama hat. The look was entirely chic yet breezily casual and perfectly set the stage for what she'd wear to today's polo match.
Markle arrived to the match in a denim dress by Carolina Herrera that somehow made the everyday blue fabric look like the most luxe material on earth.
It featured a crossover V neck neckline and elegant capped sleeves and the waist was defined by a matching denim belt. The skirt of the dress flared out in '60s-esque A-line style and had a hemline that hit at mid-calf. It's something Audrey Hepburn or Grace Kelly might've worn in their heyday which, seeing as they were fashion icons in their own right, speaks to Markle's classic yet chic style.
Markle accessorized the look with a pair of black Tom Ford sunglasses, nude Aquazzura stilettos, and an $71 woven J. Crew clutch, which is still available to purchase on the retailer's website. The overall look was summery, fresh, and stylish—but would you expect anything less?
Markle wore the look to the Sentebale ISPS Handa Polo Cup at the Royal County of Berkshire Polo Club, which raised funds and awareness for nonprofit organization Sentebale. Founded in 2006 by Prince Seeiso of Lesotho, Sentebale "supports the mental health and wellbeing of children and young people affected by HIV in Lesotho and Botswana," according to their website. Harry played on the Sentebale St. Regis team, which was captained by his friend, polo star Nacho Figueras.
It's pretty obvious by now that Markle's court or field-side style is as ace as it gets. She also recently attended Wimbledon, where she looked super fresh in a blue and white striped shirt and cream silk pants, both by Ralph Lauren. Although she brought her favorite straw Maison Michel with her to the event, she wasn't allowed to wear it as it would block the view of other attendees.
I've never been a big sports girl but Markle's outfits for these events just might get me more excited about future matches and games.