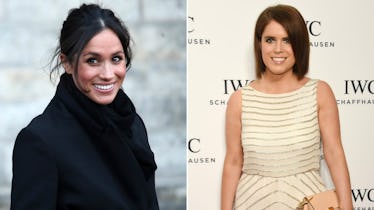 Princess Eugenie's Gigantic Engagement Ring Is Double The Price Of Meghan Markle's
Chris Jackson/Dimitrios Kambouris/Getty Images Entertainment/Getty Images
Do you like royal weddings? You do? Well, you're in luck today. No, I'm not talking about Prince Harry and Meghan Markle — I'm talking about another royal Windsor, Princess Eugenie, and her engagement to boyfriend Jack Brooksbank. Quick overview: Princess Eugenie is the daughter of the Duke (Prince Andrew) and Duchess (Sarah Ferguson) of York and is eighth in line for the throne (so, there's quite a few family members before her, including Prince William and Prince Harry). And, while Princess Eugenie and Meghan Markle will be getting married at the same spot, there's something that these two ladies are sporting that are very different from one another, and that's the rock on their finger. That's right, Meghan Markle and Princess Eugenie's engagement rings have a huge price difference. Even though both rings are strikingly gorgeous, it seems that Princess Eugenie's bling is worth much more than Miss Markle's (but let's be real, both rings are jaw-dropping).
Before we dive right into the good stuff (read: DIAMONDS!) let me take a step back and give you some details about Princess Eugenie's engagement. Princess Eugenie and Jack Brooksbank met on a ski trip back in 2010 and have dated ever since. You can't rush a royal engagement, people.
Then, on Monday, Jan. 22, The Duke and Duchess of York made a statement announcing the engagement:
The Duke and Duchess of York are delighted to announce the engagement of Princess Eugenie to Mr. Jack Brooksbank. Her Royal Highness and Mr. Brooksbank became engaged in Nicaragua earlier this month. The wedding will take place in the Autumn of 2018 at St. George's Chapel in Windsor, with further details to be announced in due course.
The Duke of York took to Twitter to show how regal the announcement looks:
While the Duchess, Sarah Ferguson, made a total mom move and tweeted a picture of the couple with an adorably sappy love quote:
Moms, amirite?
OK, so now that we have a backstory, let's get to the good stuff. You know what I'm talking about, dahling.
DIAMONDS!
OK, so, according to Page Six, a "gem expert from British TV show Posh Pawn" estimated Princess Eugenie's ring, saying, "estimating such a valuable gem is difficult without full access" but concludes saying, "We estimate it to be in excess of £100,000 [$140,000]."
Just a friendly FYI, that's double the estimated value of Meghan Markle's $70,000 engagement ring.
Some people could buy a house with that amount of money. Others just buy jewelry. Sigh.
In case you didn't see Princess Eugenie's stunning ring, take a look:
If you wanted the specs on the ring, you're not alone. In her interview with Page Six, gemologist Deborah Papas gave the details on the unique stone. She said,
It is a padparadscha sapphire surrounded by 10 brilliant cut diamonds and two pear cut diamonds to give an edge to the standard classic cluster ... This beautiful gem is considered amongst the rarest and most valuable of all the corundum varieties.
You know it's a fancy gem when you can't even pronounce the name.
Many people also noticed that Princess Eugenie's ring looks very similar to her mother's engagement ring:
Which is actually quite sweet, TBH.
Also, if you remember correctly, Prince Harry used Princess Diana's diamonds for Meghan Markle's engagement ring. In an interview with BBC, Harry said,
The little diamonds on either side are from my mother's jewelry collection to make sure that she's with us on this crazy journey together.
BRB, just bawling my eyes out over here.
In case you forgot what Markle's sparkle looks like:
So, basically, both royal engagements have their moms to thank for making these beautiful rings happen.
God bless.