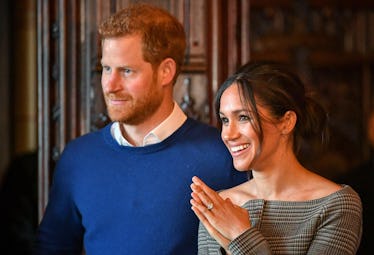 Another Royal Is Engaged & Getting Married At The Same Church As Harry & Meghan
WPA Pool/Getty Images Entertainment/Getty Images
There's another royal wedding in the works! Princess Eugenie is engaged to her longtime boyfriend, Jack Brooksbank, and the wedding is going to take place in the same location as Prince Harry and Meghan Markle's wedding: St. George's Chapel at Windsor Castle. But who is Princess Eugenie? She's the daughter of the Duke and Duchess of York, aka Prince Andrew and his wife, Sarah Ferguson. Prince Andrew is the third child of Queen Elizabeth II and Prince Philip, so that makes Eugenie one of the queen's eight grandchildren. She's eighth in line for the throne (Harry is fifth in line, for context). The Duke and Duchess of York said in a statement announcing the engagement on Monday, Jan. 22,
The Duke and Duchess of York are delighted to announce the engagement of Princess Eugenie to Mr. Jack Brooksbank. Her Royal Highness and Mr. Brooksbank became engaged in Nicaragua earlier this month. The wedding will take place in the Autumn of 2018 at St. George's Chapel in Windsor, with further details to be announced in due course.
Prince Andrew said in a following statement, "We are overjoyed at the news today that Eugenie and Jack have got engaged. Jack is an absolutely outstanding young man and Eugenie and he have got to know each other over a number of years, and I'm really thrilled for them."
Princess Eugenie and Brooksbank had an engagement photo shoot following the announcement, just like Prince Harry and Meghan Markle. Their photos were taken inside Buckingham Palace.
Just check out that gorgeous ring!
Eugenie's mother, the Duchess of York Sarah Ferguson, tweeted a bunch celebrating her daughter's engagement.
One of her tweets read, "I always say that the river flows well to it's destiny because of the guidance of a solid rock #engagement #eugieandjack." Look at that proud mama!! Hello! Magazine reports Brooksbank is a brand ambassador for Casamigos Tequila (the tequila company started by George Clooney, Rande Gerber, and Mike Meldman). He told Daily Mail that his dream is to open a line of pubs. He said, "I want to create a chain of pubs. It has been my dream since I was 18. I have fond memories of Sunday roasts in pubs with log fires, and it's something I want to recreate." He and Eugenie also apparently made a long-distance relationship work for a while, according to E!, after she moved to New York to work with an online auction house in 2013.
As for the princess's work, Princess Eugenie is involved with a number of philanthropies, as many members of the royal family are. According to E!, she's a patron of The Elephant Family (a charity set up to help prevent the extinction of Asian Elephants), The Teenage Cancer Trust, and other organizations.
But get this: Princess Eugenie and Jack Brooksbank are blood relatives.
BEFORE YOU FREAK OUT, they're really, really distant relatives. So much so that it's not really that creepy, I swear. According to Hello! Magazine, Brooksbank is a descendant of the Brooksbanks baronets, reportedly making him and Eugenie distant cousins. Eugenie's mother, the Duchess of York's, great-great-grandmother is Lady Julia Coke, whose father is Thomas Coke. Thomas Coke is Jack Brooksbank's great-great-grandfather. See? Veryyyy distant cousins! Everything's fine!
Princess Eugenie and Jack Brooksbank have more in common with Prince Harry and Meghan Markle than just their wedding venues. Eugenie reportedly lives in one of the cottages on the grounds of Kensington Palace. She apparently moved into Ivy Cottage (a three-bedroom apartment), and Prince Harry has been living in Nottingham Cottage on the grounds of Kensington Palace since 2013. Markle has reportedly moved into the cottage with Harry, but they'll move after they're married. Prince William and Kate Middleton live in the actual Kensington Palace with their kids, Prince George and Princess Charlotte. Their apartment in the palace literally has 20 rooms, so let's just assume there's a good chance they'll host a lot of parties for their engaged family members.