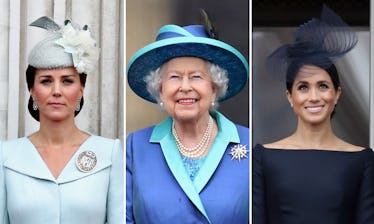 Here's Why Kate Middleton's Role In The Queen's Documentary Is Smaller Than Meghan Markle's
Chris Jackson/Getty Images Entertainment/Getty Images
Strap in, royal fanatics. The Queen has a documentary coming at ya and it's packed full of your favorite Queen things. It's called Queen of the World, and in the trailer Queen Elizabeth is seen knighting someone, wearing adorable queen clothing, laughing her adorable queen laugh, and basically just being awesome. She's also spotted hanging out with the new Duchess of Sussex, Meghan Markle. While fans will be delighted to get a peek at the ins and outs of Markle's relationship with the matriarch, a few people are wondering — Why isn't Kate Middleton in the Queen's documentary as much as Meghan? Ya know what, reader? Great question. Luckily, there's also a great answer.
According to People magazine, the Duchess of Cambridge sat out of filming simply because she was straight-up super pregnant with Prince Louis during the beginning of production and then on maternity leave for the end of it. Apparently, the Commonwealth is a major theme in the documentary and cameras follow Queen Elizabeth and the royal gang to various relevant events. In April, there was a British meeting with the heads of each of the 53 Commonwealth's governments, and Middleton was due with Prince Louis literally any second. As People puts it, "she simply wasn't taking part in functions with the family at that time."
Fair enough.
Fans and subjects know Middleton experienced difficult pregnancies with her first two children, Prince George of Cambridge and Princess Charlotte of Cambridge, and was laying low for her third. She was also due just before the big royal wedding between Meghan Markle and Prince Harry on May 19, which understandably yielded an extraordinary amount of attention from the press and public. It makes total sense if Middleton was just like, "Hey, fam. It seems like you've all got this. I'll be over here growing a new prince." (Prince Louis arrived on April 23, 2018, roughly three and a half weeks before the wedding.)
Speaking of the royal wedding...!
In the trailer for Queen of The World, fans catch a glimpse of Meghan seeing her wedding dress for the first time. She has a huge smile on her face and delicately touches her veil. In a truly reserved and proper manner, she says to the woman next to her, "53 countries, oh my goodness. It will keep us busy." Not, "OMG, MY WEDDING DRESS!" or "Holy sh*t! Holy sh*t!" But, I guess that's why she's the Duchess of Sussex and I'm not.
In the voiceover for the trailer, it's mentioned how the Queen is working on passing down her duties to the next generation which includes both Middleton and Markle. And, oh yeah, Prince William and Prince Harry are there, too. Take a look:
Queen of the World airs in two parts in the U.K. beginning on September 25th on ITV1. If fans want to catch all the fun in the U.S., they can tune into HBO on Monday, Oct. 1, at 8:00 p.m. for tea, crumpets, and Queen Elizabeth.
Not too much Kate, though. No one expect Kate.