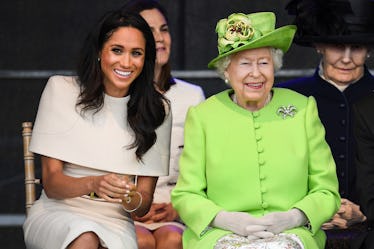 Here's What Queen Elizabeth & Meghan Markle's Body Language At Their First Royal Engagement Reveals
Jeff J Mitchell/Getty Images Entertainment/Getty Images
Some of us just can't get enough of the royals. With the sweet engagement announcement and recent fairy tale wedding behind us, I've been looking forward to events like Trooping the Colour and every curtsey in between to get through the day. Most of us were blushing on the other side of our TV screens when the Duke and Duchess of Sussex said, "I do," just about a month ago, and wish we could relive that day again. Most recently, we've been wondering what Queen Elizabeth and Meghan Markle's body language during the latest royal engagements mean, because they're seemingly besties, and that's quite the dynamic duo.
So, here's the scoop: On June 14, Meghan accompanied the Queen for a day of appearances in Cheshire. According to tweets from Kensington Palace, the two traveled via the royal train from London, making this even more special than I could have ever imagined. Prince Harry was not in attendance for these events, meaning that this was Markle's first time being a royal without him by her side. (Granted I've never worn a tiara myself, but I'd say she did so well, just because of how much the two are smiling.)
Elite Daily spoke with body language expert, speaker, and author of The Power of Body Language, Tonya Reiman, about what she thinks of the Queen and Meghan Markle's relationship, solely based on their body language. She provided us with some insight.
Laughter is a surefire sign of best friends forever.
This picture shows Meghan Markle and Queen Elizabeth pretty clearly sharing a little laugh. It's obvious that the two are having a wonderful time together — and it truly warms my heart.
According to Reiman, who analyzed the photo, this picture is really significant. She tells Elite Daily, "The two leaning their upper bodies as well as their faces towards one another, indicate they are close. Their expressions both demonstrate sincere joy." She continues to note how the Queen is showing her teeth and has "raised cheeks." Even the "crinkles around her eyes" are worth taking a second to notice and appreciate.
"They appear to be sharing an intimate secret. They are graceful confidants," Reiman says. So, cue all of my happy tears now, and what was that about a royal secret?
Markle is clearly very interested in what Queen Elizabeth has to say — and they're still smiling!
In this photo, the conversation is continuing, and from an outsider's perspective, it seems that Markle is listening very intently. She appears genuinely interested in hearing what the Queen has to say, and is coming across as polite and respectful. You already know that someone so regal probably has the most amazing stories and advice to share, especially to a royal who is new to the ropes.
Reiman tells Elite Daily, "If you look at Meghan's face, there is genuine happiness. This is noted in her jaw (note the lines), her cheek (they are lifted), and eyes (see the slight crinkles)." Reiman also makes note of how the Queen is using her hands, which shows she's "involved."
OK, just one more look, because I'm living for this.
Now, this is basically the same scene, but you can see just how Markle is leaning into the conversation. Her legs are crossed toward Queen Elizabeth, who is facing forward, but still engaged. Who knew there was so much going on behind-the-scenes in even the most public of royal appearances!
According to Reiman, the women are "cross mirroring" each other, which essentially means they're playing off of each other's body language. "Meghan Markle appears to be more enthusiastic, however, that could be [a] signal that a younger woman is entranced by a respected elder," Reiman says.
For Meghan Markle, these sort of events are only the beginning of her new life in the royal family. She looked as regal as ever riding to Trooping the Colour on June 9, for the Queen's annual birthday celebration at Buckingham Palace. According to Harper's Bazaar, she wore a pale pink outfit by Carolina Herrera and a coordinating Philip Treacy hat while elegantly riding in a carriage with her new husband. Personally, I'm still blushing over her second wedding dress by Stella McCartney, which was perfectly paired with Princess Diana's ring during the most magical moments of the year.
Seriously, sign me up for this new friendship, though, because I bet it's nothing short of Anne Hathaway and Julie Andrews exploring around San Francisco in The Princess Diaries. After these pictures and decoding the body language, it's lovely to see that Meghan Markle is getting along just fine with her very royal family.