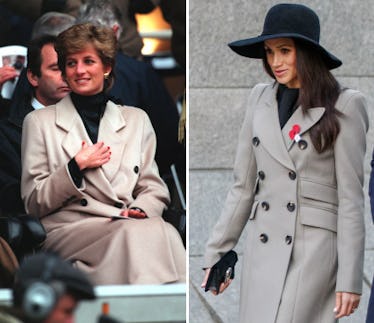 Meghan Markle's Style Idol Is So Sweet & I'm Not Crying, You're Crying
Pascal Rondeau/Staff/Getty Images Sport/Getty Images & WPA Pool/Pool/Getty Images Entertainment/Getty Images
Princess Diana would have been Meghan Markle's mother-in-law, as the duchess is married to Diana's son, Prince Harry. The women experienced palace life decades apart, but they may not be that different in many ways. Comparing Meghan Markle vs. Princess Diana's style shows just how similar the two women are.
Ever since going public with her relationship with Prince Harry in late 2016, Markle has had to make sure to dress like a royal. There's a whole host of royal fashion rules that Markle must follow, although she still manages to add some personal flare to her looks. That's partly thanks to Princess Diana's royal rule-breaking – Diana was known to challenge the queen's dress codes, wearing more revealing ensembles than would normally be seen on a royal. Markle's still new to the fam and probably won't be bearing extra cleavage anytime soon, but she still does follow in Diana's fashion footsteps.
Despite the time difference in their royal reigns – Princess Diana was haute in the '80s while Markle is au jour in 2018 – their styles are remarkably similar. Fashion trends aside (don't expect to see Markle in a frilly collar or puffy sleeves anytime soon), Markle looks to be taking a bit of #ootd inspo from her late mother-in-law.
Princess Diana: January 1995
Princess Diana sat in the stands to watch a Wales vs. France Rugby game in 1995 and sported a double-breasted camel coat to cheer on her team. Double-breasted (two rows of buttons) coats and jackets were mainly popular in the '80s, but look who's bringing them back into style...
Meghan Markle: April 2018
Markle attended an Anzac Day dawn service in London a few months ago and wore a coat remarkably similar to Diana's. Both coats have the double-breasted closure, and Markle's even appears to have some exaggerated shoulder pads, a definitively '80s-inspired silhouette.
Princess Diana: May 1983
Princess Diana was a fan of bright colors, often choosing vibrant looks to show off her favorite hue of the day. Here, in New Zealand in 1983, Diana choose a multi-piece yellow outfit while on a tour of the country.
Meghan Markle: July 2018
Markle, on the other hand, has so far been mostly known for her liking of more neutral clothes. At the Your Commonwealth Youth Challenge reception, though, Markle wore a yellow dress that I can't help but think was a small homage to her hubby's mum.
Princess Diana: November 1982
On a royal tour of Wales in 1982, Princess Diana wore a tonal checked print brown coat and an oversized tan beret. This outfit is actually a double whammy folks, as I believe it inspired two of Markle's looks.
Meghan Markle: April 2018
Markle attended the Commonwealth Youth Forum a few months ago and wore a double-breasted, pinstriped dress that is very reminiscent of Diana's 1982 coat.
Meghan Markle: December 2017
Perhaps even more akin to Diana's look was Markle's attire at her first royal Christmas service in 2017. Just like Diana, Markle wore a camel-colored coat and a brown beret-style hat. Markle's brown hat was her very first royal headpiece so it's fitting that she gave nod to Diana's style with it.
Princess Diana: August 1997
Even the women's more casual style is exceptionally complementary. During a trip to Bosnia with the Red Cross in 1997, Diana wore a pair of "mom jeans" (which are actually back in style) with a tucked in white button-down shirt. The people's princess wore tan flats, a brown belt, and dark sunglasses on her head.
Meghan Markle: September 2017
At the 2017 Invictus games (one Markle's first public outtings with Harry!), the duchess wore a white button-down shirt tucked into her jeans, brown flats, a brown bag, and dark sunglasses – just like Diana!
What a trendsetter.