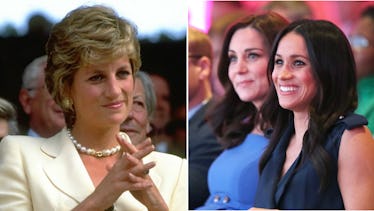 6 Royal Rules Princess Diana Broke That Paved The Way For Meghan Markle & Kate Middleton
Clive Brunskill & Chris Jackson/Getty Images Entertainment/Getty Images
Buckle up, plebeians. We're on a deep dive today and the name of the ride is Princess Diana Is The Freaking Best. So strap in, get on board, or come back when you're ready for this fire. It's been a huge year for the British royal family, giving regular folks like me a reason to spend their lunch breaks googling things like royal tradition, the crown jewels, and all the mystery and magic behind Princess Diana and her legacy. Princess Diana's most iconic royal moments made her accessible in a way no royal before her ever was and I'm a new devotee. Especially since she paved the way for our favorite royals of the 21st century, Kate Middleton, Duchess of Cambridge, and Meghan Markle, Duchess of Sussex, to lead totally iconic royal lives of their own.
Here's what I've gathered... being royalty is a whole thing. There are traditions, rules, and guidelines for just about everything. While Princess Diana was definitely not a commoner prior to marrying Charles, Prince of Wales she was still pretty freaking hardcore. Despite having been raised in a British aristocratic family, she was down to earth, opinionated, and so much more "out there" than the other royals around her. This translated in a lot of different ways and was often met with criticism from the public. Still, she defiantly marched to the beat of her own drum all the up until her untimely death.
Here are just a few of my favorite traditions broken by the late, great, Princess Diana that helped pave the way for Kate Middleton, Duchess of Cambridge, and Meghan Markle, Duchess of Success.