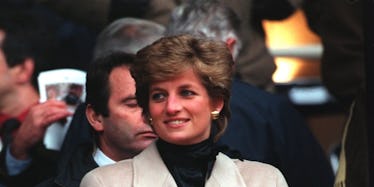 Princess Diana Broke These Royal Traditions Because She Was Clearly Born To Rule
Pascal Rondeau/Getty Images Sport/Getty Images
In many ways, Meghan Markle is a carbon copy of her late mother-in-law, Princess Diana. Don't @ me, Kate Middleton stans. If you needed any convincing, here it is: She's compassionate, down to earth, and a bit of a royal rebel. Dynasty Di 2.0? But before the newly minted Duchess of Sussex was hugging commoners and sporting eyebrow-raising ensembles, it was Diana that made waves for her protocol breaking ways. As much as I'm so here for Harry's new Mrs., all the royal traditions Princess Diana broke prove she's the one and only "people's princess." All hail the OG.
Speaking to BBC1 in 1995, just two years shy of her tragic death, the Princess of Wales opened up about her unconventional reign:
I do things differently, because I don't go by a rule book, because I lead from the heart, not the head, and albeit that's got me into trouble in my work, I understand that. But someone's got to go out there and love people and show it.
Those are definitely some big (probably Superga) shoes to fill, Megs. From her style to her parenting approach, here are all the times the Princess of Wales broke tradition, and made our lives while doing it.
Her royal style
Princess Diana was hardly shy about stepping out in a controversial look. She defied royal expectations with her style, and set major trends because of it. For her first official appearance on Prince Charles' arm, Lady Spencer sported a strapless black taffeta gown. According to recently released interviews in Diana: Her True Story - In Her Own Words, her then-fiancé was none too pleased by the wardrobe choice. "I remember walking into my husband-to-be's study, and him saying: 'You're not going in that dress, are you?'" she recounted. Ouch.
Despite Charles' dissatisfaction over Diana's dress, she continued to forego royal tradition (and fashion rules). She used her style as a way to portray "approachability and warmth." According to Eleri Lynn, who curated the Kensington Palace fashion exhibit in Diana's honor:
She abandoned the royal protocol of wearing gloves because she liked to hold hands when visiting people or shake hands and have direct contact. She also stopped wearing hats because she said, 'You can't cuddle a child in a hat.
Her engagement ring
While her engagement ring has found a new home on daughter-in-law, Kate Middleton's ring finger, Princess Diana's engagement bling caused controversy. The 19-year-old bride-to-be selected her sapphire and diamond cluster ring from a Garard catalog. And while the design mirrored a royal blue broach of Prince Charles' mother, giving it sentimental significance, it wasn't custom made. Prince William's decision to gift his wife the reported $500,000 jewelry was a "way of making sure my mother didn't miss out on today and the excitement." All the feels.
Her approach to parenting
I'd say Prince Harry and Prince William turned out pretty well, and I don't just mean because they're really, really good-looking (but yes, that too). Princess Diana was by all accounts a hands-on mom, who was dedicated to giving her children a taste of the normal life. And that meant public pre-school. According to George Hackett in a 1985 edition of Newsweek, "The decision to have William, 3, develop his finger-painting skills among commoners showed the influence of Diana, Princess of Wales."
Her royal rebellion hardly ended there. According to Good Housekeeping, Di's parenting style included McDonald's hamburgers, public transportation, outside play, and waiting in line at Disney World. "She was very informal and really enjoyed the laughter and the fun," Prince William dished in the HBO documentary Diana, Our Mother: Her Life and Legacy. "She understood that there was a real life outside of Palace walls." Harry agreed, calling her "one of the naughtiest parents."
Her candor about their marriage struggles
Diana was the realest. Seriously. She was open about her life in a way that was both unique and remarkably refreshing. In 1995, Di sat down in a candid confessional with BBC's Martin Bashir. In the interview, the Princess of Wales dropped major bombshells surrounding her marriage and the Prince Charles' controversial affair with now-wife Camilla. In the segment, which preceded their official split, Diana discussed her husband's reported extra-marital interest, and her desire to stay together. "I don't want a divorce," she revealed. "Obviously, we need clarity on a situation that has been of enormous discussion over the last three years. I await my husband's decision of which way we are all going to go."
Her honesty about mental health
Diana not only discussed her marriage woes, but her mental health struggle, as well. In the same 1995 BBC interview, she revealed her struggle with bulimia, self harm, and depression. She admitted that her purging habit was a "symptom of what was going on in my marriage," and that there was a lack of support during her postpartum bout. "I felt like I was the first person ever in the royal family to openly cry and nobody knew what to do," Diana said. She also made sarcastic mention of the "wonderful new label" she earned, "Diana is unstable, Diana is mentally unbalanced."
In reality, Diana was strong. There's a reason we're still obsessing over her 20 years out. She gave the crown an entirely new reputation, and I'm just hoping Meghan Markle and Kate Middleton continue to carry on her legacy, Supergas and all.