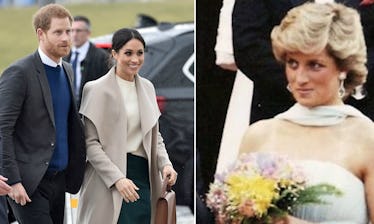 Meghan Markle & Princess Diana's Broken Royal Traditions Show How Similar They Are
CHARLES MCQUILLAN/GETTY IMAGES ENTERTAINMENT & GEORGES BIARD
Meghan Markle and Prince Harry broke all kinds of traditions when it came to their wedding. There was their choice of cake (elderflower!), the location of the ceremony (Windsor!), and the fact that the guest list included 1,200 members of the public. But the newly minted Duchess of Sussex isn't the first rebellious royal. Princess Diana breached protocol, too. In fact, Meghan Markle and Princess Diana's broken royal traditions show how similar they actually are.
In November 2017, news broke that Prince Harry was engaged to American actress Meghan Markle. When asked what his mother would have thought of his then-fiancée, Prince Harry told the BBC that Meghan and Diana would have been besties.
"Oh, they'd be thick as thieves, without question," he said. "I think she would be over the moon, jumping up and down, you know so excited for me. But then, as I said, would have probably been best friends ... best friends with Meghan. So, you know, it is days like today when I really miss having her around and miss being able to share the happy news."
The whole thing is just so bittersweet. So let's take a closer look at the ways Meghan and Diana each veered off the royal path, so we can see how similar these two actually are.
Wardrobe
Princess Diana often made headlines for her unprincess-like, curve-hugging, and shoulder-revealing dresses.
She also tended to dress down for her charity work, which was totally unusual at the time for a royal.
Meghan likes to go casual, too. She even wore a button-down and jeans getup during a trip to the Invictus Games with Harry in 2017, an outfit Diana was known to sport often.
She's also defied royal hair rules many times, like with that strategically messy bun she wore at her wedding:
And she made headlines for breaking protocol with the pink off-the-shoulder dress she rocked at the 2018 Trooping the Colour.
Hugs
While hugging wasn't something the royal family ever did while out in public, Princess Di frequently broke this rule with the general public, as well as with HIV-positive patients, who she met and hugged.
Meghan is here for the embraces, too. She broke protocol to hug a member of the public who told her that she was her inspiration during a recent trip to Scotland.
And the Suits star also hugged a young school girl on International Women's Day in Birmingham, when she told Markle her dream was to become an actress.
Vows
Diana decided before her wedding that the phrase to "love, cherish, and obey" was outdated, so she ditched the word "obey" during her 1981 nuptials.
Not only did Kate Middleton follow suit in 2011, but Meghan chose to leave the traditional phrase out of her own royal wedding vows to Prince Harry, too.
Press
Diana was known for being outspoken with the press, and for telling them things others royals traditionally kept close to their chests. She appeared on the cover of British Vogue three times, and in her first-ever solo interview with the BBC in 1995, she openly addressed various controversial topics involving her life and marriage. "I do things differently, because I don't go by a rulebook; because I lead from the heart, not the head," she explained. "That's got me into trouble, I understand that. But someone's got to out there and love people — and show it."
Meghan has also been sort of an open book with the media. Before her engagement to Prince Harry, she appeared on the cover of Vanity Fair, and gave an interview inside where she discussed her new role as a royal girlfriend.
"We're a couple," she said. "We're in love. I'm sure there will be a time when we will have to come forward and present ourselves and have stories to tell, but I hope what people will understand is that this is our time. This is for us. It's part of what makes it so special, that it's just ours. But we're happy. Personally, I love a great love story."
Same. Later, following the couple's engagement, Markle addressed the coverage of her race in the press — something that got so heated it prompted Harry to issue an official statement — head-on.
"You know, it's a shame that that is the climate in this world," she said. "At the end of the day I'm really just proud of who I am and where I come from, and we have never put any focus on that."
Tell 'em, sis! Meghan is truly the best kind of rebel — she's smart, she's compassionate, she's charitable, and she's courageous. And just like Diana, she's just so damn real and relatable.
Never change, girl!