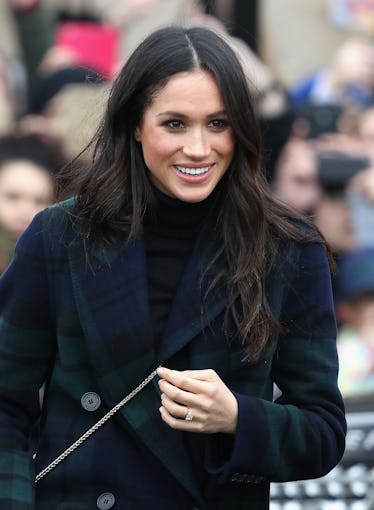 Meghan Markle Broke Royal Tradition Again In A Major Way & The Reason Is Really Cute
Chris Jackson/Getty Images Entertainment/Getty Images
Let's just get this out of the way right now: There are fewer people I love to learn about more than Meghan Markle. Yes, she's marrying into British royalty (Prince Harry is one lucky dude), but it's much more than just her future marital status that I love. She's one of those people who you know is a good person just by simply looking at them (not to mention she's a pretty badass businesswoman and actress), so to me, she seems like the complete package. And now, there's a photo of Meghan Markle hugging a fan in Scotland and it makes me want to hug her for many, many reasons.
Apparently, it's breaking royal protocol to be touched by any members of the public if you're part of the royal family, but honey, rules were meant to be broken if you're Meghan Markle.
During their visit to Edinburgh, Scotland, the royal couple visited Social Bite, which is described as a "sandwich shop that donates its profits to social causes, such as homelessness," according to E! News. During their visit, Markle broke tradition to hug Alice Thompson, the co-founder of Social Bite.
According to Marie Claire, journalist Omid Scobie said that Thompson praised Markle and told her that she's her inspiration just before they hugged:
I'm sorry, but can we talk about how sweet — but also how badass — this is? Bringing a civilian in for a hug when the rules go against that notion is probably the most adorable way to break that tradition, and I am so here for it.
Meghan Markle isn't a stranger to breaking royal protocol, either. In fact, she's basically been breaking traditions left and right since her engagement, proving that you can be elegant, graceful, and a bit of a hell-raiser all rolled into one.
She and Prince Harry first broke tradition during Christmastime, when Prince Harry brought Markle to celebrate with his family. Sounds like no big deal, but apparently just because you have a ring on your finger doesn't mean you can hang with the royal family for the holidays. But LOL, Meghan Markle and Prince Harry don't care about that tradition, because he brought her to spend Christmas with his family, and (fortunately) it seemed to have gone very well.
When speaking on BBC Radio 4's flagship Today show, where he is currently serving as a guest editor, Prince Harry spoke about how the holidays went:
Oh, it was fantastic ... she really enjoyed it. The family loved having her there ... Together we had an amazing time, we had great fun staying with my brother and sister-in-law and running around with the kids.
In your FACE, tradition!
And if you thought that was as daring as Meghan could get, think again, because the royal wedding will have like, a ton of rules being broken — our girl wants what she wants, dammit.
According to reports, Meghan Markle will be walking down the aisle with her mother instead of her father, since her parents split up when she was a child and she has remained very close to her mother. It's untraditional, but who cares about tradition? You do you, girl.
Markle has also chosen a maid of honor, which technically royals don't have (fun fact: they typically have "chief bridesmaids"), according to reports, so that's yet one more royal rule that she's breaking. While we don't know for sure who she chose, we do know that there are probably hundreds of thousands of women who would gladly take the role if her MOH backs out last minute.
Yes, I'm included in that statistic, and I'm not even ashamed.
I think we should all take a moment to appreciate Meghan Markle, the future royalty rule-breaker.
No, Meghan. Thank you.