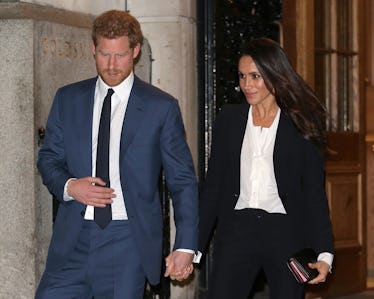 Meghan Markle & Prince Harry's Valentine's Day Plans Are Seriously So Epic
WPA Pool/Getty Images Entertainment/Getty Images
Do your Valentine's Day plans consist of eating a ton of chocolate, drinking a bottle of wine that costs more than $15, and sitting on your couch while binge watching your favorite Netflix series? First off, same. But also, it looks like the royal couple plans to celebrate the day juuust a bit differently. And by "just a bit differently" I mean absolutely in no way the same, because Meghan Markle and Prince Harry's Valentine's Day plans are beyond epic. Kensington Palace has announced that the couple will be visiting Edinburgh, Scotland, on Feb. 13, which will be their first joint trip to Scotland together.
According to E! News, Prince Harry and Meghan Markle will start their day by "visiting the Esplanade in front of the famous Edinburgh Castle," where they will be "greeted by the Royal Marines Scotland Band." I'm already seeing that this is fancy AF, and we're only on the first activity of the day. After they listen to the sweet, sweet sounds of the Royal Marines Scotland Band, they will then "watch the he firing of the One O'clock Gun," which is apparently "a tradition that dates back to 1861."
This is all sounding very "pinkie's up" if you as me:
E! News also reports that after the gun firing (sounds a bit aggressive for the day before Valentine's Day, but we'll take it), they'll be visiting Social Bite, which is described as a "sandwich shop that donates its profits to social causes, such as homelessness." Harry and Meghan will learn more about Social Bite's mission, as well as meet the staff and get a full tour of the place.
Romantic and charitable? This royal couple is UNSTOPPABLE, y'all.
Lastly, the pair will attend a reception at the Palace of Holyroodhouse where, according to E! News, "they will celebrate the achievements of the country's youth for Scotland's Year of Young People 2018."
Um, if those are their plans for the day before Valentine's Day, then what the HELL are they going to do to top that for the actual big day?
Kensington Palace didn't confirm whether or not Harry and Meghan will be staying in Scotland for Valentine's Day, but I'm pretty sure that they wouldn't pass up a romantic Scottish getaway for the holiday of loooove.
Besides, it's clear that Meghan's a pretty big fan of the holiday, so we're sure Prince Harry is going to do something extra special for her. In her lifestyle blog, The Tig, Markle wrote a post back in 2016 about having a day that's focused on making yourself happy. She said,
I think you need to cook that beautiful dinner even when it's just you, wear your favorite outfit, buy yourself some flowers, and celebrate the self love that often gets muddled when we focus on what we don't have.
Yes, girl!
Meghan Markle and Prince Harry have stolen our hearts (I mean seriously, have you seen their engagement photos?) and it seems only right that we look to them as the epitome of #relationshipgoals. Even the way Prince Harry proposed was ridiculously romantic. In their first interview as a newly engaged couple with BBC, the couple went over the details of their engagement. Markle said,
Just a cozy night. What were we doing? We were trying to roast a chicken. It was just an amazing surprise. It was so sweet and natural and very romantic. He got down on one knee . . . As a matter of fact, I could barely let him finish proposing, like, 'Can I say yes now?!'
You can't tell me that Prince Harry doesn't have at least a little something up his sleeve during their time in Scotland. Maybe he'll buy her flowers. Maybe he'll reenact the night he proposed and roast a chicken. Maybe he'll make her British royalt — oh, wait, he's already doing that in May.
Flowers and chicken sound nice, though!