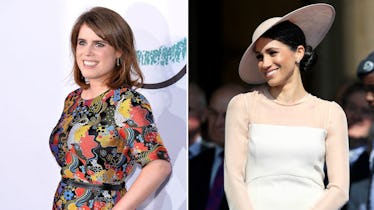 7 Royal Rules Meghan Markle Had To Follow On Her Wedding Day That Princess Eugenie Won't
Jeff Spicer & Chris Jackson/Getty Images Entertainment/Getty Images
Princess Eugenie of York's wedding day is slowly approaching, which means the UK is gearing up for another royal wedding. While it won't have as much hoopla surrounding it as her famous cousins', it's sure to be awesome! Fans can definitely anticipate super obvious differences between Eugenie's wedding and the wedding of Meghan Markle and Prince Harry, Duke and Duchess of Sussex. Even though Eugenie is a princess, she is not a working royal, which gives her a totally different, much looser set of rules to follow on her big day. I've counted at least seven royal rules Princess Eugenie won't have to follow at her wedding that Meghan had to say, "OK, fine," to.
Princess Eugenie and her sister, Princess Beatrice, are the granddaughters of Queen Elizabeth, but they are not considered working royals the way their famous cousins are. One way this is denoted to the public is they are not listed on the official royal website, royal.uk. This means Eugenie gets to dodge a lot of the bullsh*t (there, I said it) that Meghan has to put up with now that she's married to the sixth heir in line to the throne.
Here are just a few of the wedding rules Eugenie doesn't have to worry about that Meghan had to take on.
1. She Can Choose Whatever Nail Polish Color She Wants
I know, it feels a little early 1900's to me too. Alas, Meghan and Kate Middleton, Duchess of Cambridge, are stuck wearing only neutral tones or no nail polish at all. It's common knowledge the queen prefers subtle hues as opposed to anything too catchy or bright. But, thanks to Princess Eugenie's status (or lack-there-of) she can rock lime green sparkles on her wedding day if she damn well pleases!
2. She Didn't Have To Ask The Queen For Permission To Marry Her Fiancé
You bet your sweet buns Prince Harry had to get approval from his main girl Liz before asking for Meghan's hand in marriage. Queen Elizabeth consented to her grandson's marriage in March of 2018, just two months before the royal wedding. (According to Today, it took her about that long to give William and Kate the official seal of approval, too.) As for Eugenie? She was free as a bird to say "YES!" to her fiancé Jack Brooksbank and call up the queen and tell her all about it later.
3. She Can Take Selfies And Post Them To Her Own Social Media Accounts
This might not come as too much of a shock, but those who are part of the working royal club do not get to be on social media or take selfies with their fans. It caused a little bit of drama when Meghan erased herself from Instagram and deleted her popular lifestyle blog, The Tig. However, if Eugenie wanted to document her entire wedding day and slap it all over Snapchat, she totally could! Hopefully, fans will get great sneak peeks and snapshots from the bride herself.
5. Her Wedding Dress Could Be Totally, Totally Short
Ok, it probably won't be. But the fact that it could fall above her knees is kind of a big deal! Meghan is limited to "modest" lengths that "should" hang to her knee or lower. She's also stuck in pantyhose (which literally makes me throw up a little bit in my mouth just thinking about how they feel when you sit down in a car). However, Eugenie can free-ball her whole wedding day if she so chooses, rocking bare legs and short hems!
5. She Could Also Wear Wedge Heels. (Gasp!)
Lawd, help her if she does. The queen hates wedges, though Kate Middleton has been known to just go for it, anyway. A source once told Vanity Fair, "The Queen isn't a fan of wedged shoes. She really doesn't like them and it's well known among the women in the family." That said, if Eugenie wanted to pair her maybe minidress with a pair of cork-bottomed wedges, she could do that. Like, in theory.
6. And Show Off A Little Cleavage, Too
Ok, you caught me. That's Kate Middleton. But, look at that neckline! Look at those sleeves! Look at that half-collar situation! And don't even get me started on Meghan Markle's boat neck. Ladies, your girls are staying in if you want to be a princess. Like the other royal fashion protocol rules, it's probable Eugenie could opt for something slightly more revealing, like a sweetheart neckline or even — dare I say it? — a V-neck.
7. The Wedding Date Does Not Have To Accommodate The Working British Peoples' Schedules
For Meghan and Harry, their wedding date of Saturday, May 19, was specifically chosen so the people of Britain would have the day off to celebrate. Before them, Prince William and Kate Middleton, the Duke and Duchess of Cambridge, wed on Friday, April 29, 2011, which was declared a national bank holiday, and the same went for Princess Diana and Prince Charles who wed on a Wednesday back in 1981. Eugenie and Brooksbank are scheduled to say "I do" on Friday, October 12, and it is expected the public will not be granted the day off. Womp, womp.
While it would be cool and everything to be considered "an official working royal," it seems Eugenie is better off in a lot of ways. There are certain to be loads of similarities between Eugenie and Meghan's weddings (like the location, similar guest list, lots of tea and crumpets, probably), and let's be real, she'll probably follow a lot of these royal guidelines by choice. No matter what, fans are certain to love learning the details of her big day!
Happy wedding, babe!