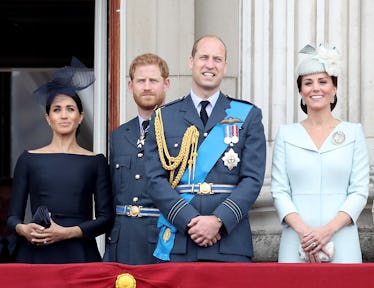 Meghan Markle Now Has To Follow These Royal Family Dress Code Rules & They're Intense
Chris Jackson/Getty Images Entertainment/Getty Images
Have you ever noticed that Kate Middleton never wears red nail polish, or how she never takes her coat off in public? There's a reason for that. The British royal family dress code consists of very specific rules that all family members must follow. Meghan Markle is also now an official member of said family, and she's had to conform to all these new fashion rules.
Markle became an official member of Queen Elizabeth's family on May 19, 2018 when she wed Prince Harry, and while that comes with much new privilege, it also brings in a host of restrictions. More specifically, rules about what she can wear. Both Markle and Middleton, as well as all other members of the royal family, have a literal queen to impress, after all. Fittingly, the "rules" are actually mix of legitimate fashion regulations as well as personal style preferences from the queen. It's been reported that Prince Harry helps style Markle, but Meghan, if you need anyone else to come to come up to Buckingham Palace and help you out, hit me up.
In the off-chance that Markle has misplaced my phone number, I'll lay out the rules for her here. You guys can read up on the dress code, too, in case you soon meet your prince. Here's hoping!
1. Thy Nail Polish Must Be Neutral
You may have never really noticed the royal family's nail polish colors and that's sort of the point. Members of the British royal family aren't allowed to wear bold colored nails while performing official duties. Kate Middleton foregoes nail polish quite often, and Queen Elizabeth II has been wearing Essie's Ballet Slippers Nail Polish ($9; ulta.com) since 1989! Markle started to follow this rule ever since her engagement announcement (pictured above), where she wore Essie's Ballet Slippers Polish just like the queen.
2. Don't Compete With The Queen
In contrast to her nail polish, the queen's brightly-colored outfits are something of a trademark. "If I wore beige, nobody would know who I am," the queen reportedly once said. This is so that she stands out in a crowd and her countrymen are always able to catch a glimpse. Luckily, Markle favors neutral ensembles.
3. Keep Your Girls At Bay
Your own grandmother would probably also agree, but the queen does not approve of bearing cleavage. Princess Diana used "cleavage bags" to avoid such a catastrophe – small clutches to cover up any potential exposure when she was getting out of cars.
4. Death Before Wedges
OK, the death penalty may be a bit extreme, but it is a known fact that the queen has a serious distaste for the comfortable high-heeled shoes. "The queen isn't a fan of wedged shoes. She really doesn't like them and it's well known among the women in the family," a source said.
This is one of those more unofficial rules, and since Middleton has a penchant for cork wedges, she tends to wear them when her grandmother-in-law isn't around.
5. Wear Your Jeans Sparingly
The general rule of thumb for the royal family is to be well-dressed at all times, and jeans don't make the cut. Middleton once wore jeans and wedges. Gasp!
6. Don't Take Off Your Coat & Stay Awhile
You've probably had one of those awkward moments when you're trying to take off your coat and somehow get tangled up in it. Wouldn't it be awkward if that happened to, say, a Duchess? Taking off your coat is seen as an unsightly process and members of the royal family must never do so in public.
7. Not Your Middle School Headgear
Neither Markle nor Middleton were permitted to wear a tiara until their wedding days, as tiaras are a marker of marital status for women in the royal family.
This definitely sounds like the most fun rule to follow, though, I'd be willing to marry a prince to wear a tiara, anyone available?
8. Please Thy Queen
That pretty much sums it up.