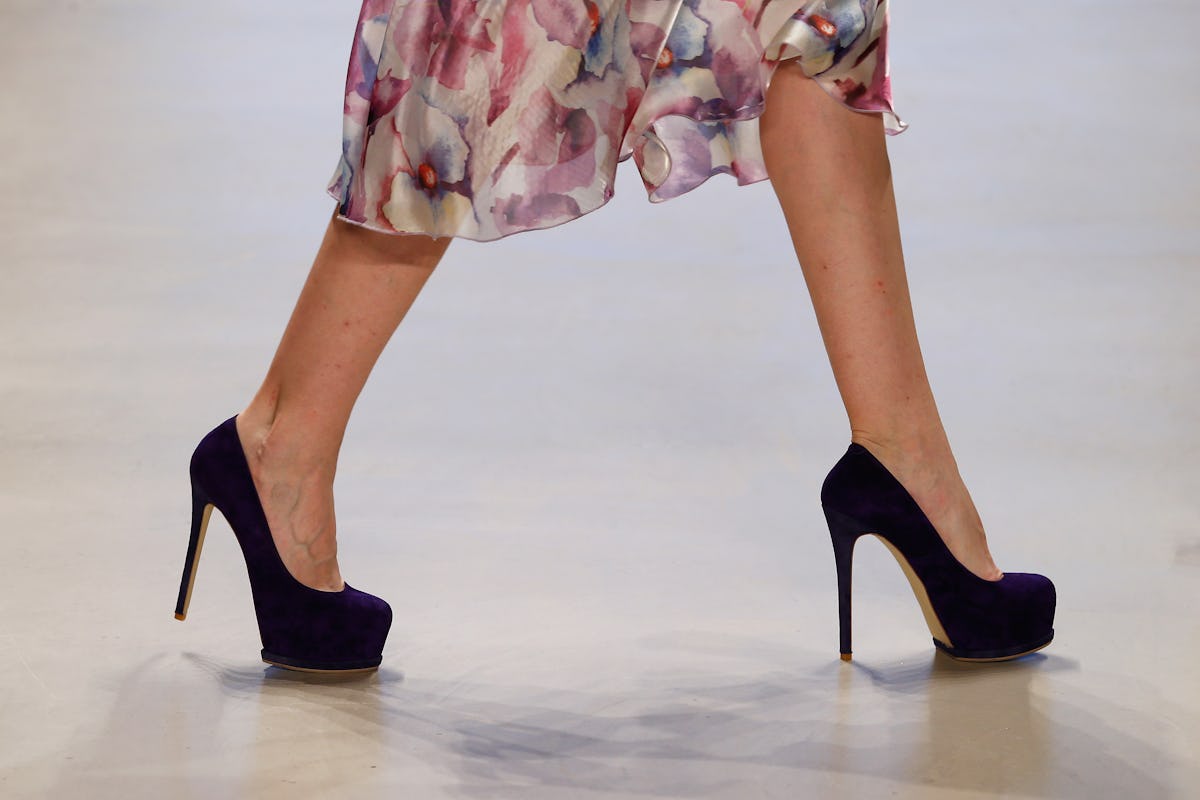 How To Rock Your Fave Ultra-High Heels & Still Be Comfy AF On New Year's Eve
Andreas Rentz/Getty Images Entertainment/Getty Images
Almost every girl has endured a pair of uncomfortable high heels for the sake of a good outfit. This leads to hobbling home at the end of the night because your feet hurt so much. My gift to you is these tips on how to make high heels comfortable, for those occasions when flats just won't do.
Some of you are likely now saying, "Why don't you just wear flats?" Let me tell you, I wear sneakers whenever possible, but I also like to get dressed up and wear heels sometimes! The 2017 rules of feminism definitely say that women don't ever have to wear heels, so if they're not your thing, just go for flats. I know a lot of girls, and some guys who love to wear heels, though, even at the expense of comfort.
I often find myself in the self-inflicted dilemma of, do I wear the comfortable shoes, or do I wear the cute shoes? I have many footwear options that are cute and comfortable, but unfortunately, sometimes you have to choose between those traits, until now. And New Year's Eve is right around the corner, talk about perfect timing. Read on to find out how to make your heels comfortable enough to dance the night away, and still manage to walk home in them.
Not All Heels Are Created Equal
Before I get to making your existing shoes more comfortable, let's take a look at the different types of heels out there.
G by Guess Shantel Two-Piece Sandal in Gold ($40; macys.com)
It's a regrettable convention that formal shoes need to have a skinny heel. A block heel makes any shoe more comfortable because the bigger heel can better absorb and distribute your weight. You can still get the height you want; the above pair is a four inch block heel that you can wear to any cocktail party or even a black tie affair.
Chinese Laundry Lulu Over The Knee Wedge Boot in Black ($80; dsw.com)
Wedges give the same gift of added support without taking away the extra inches you crave. Wedges aren't just for summer either, you can wear them in boot form in the colder months.
Shein Faux Patent Lace-Up Flatform Oxford Wedges ($31; shein.com)
If you've never worn a flatform shoe before, say hello to your new best friend. A flatform is a wedge heel that is the same height, or almost the same, along your whole foot. This means that your foot will be in it's natural, level state — your heel won't be hiked up 4 inches — and it basically feels like you're not wearing heels at all.
The Spice Girls used to wear flatforms, but the style has since gotten a modern makeover.
No Shame In Your Insert Game
You've got that epic pair of heels stashed away in your closet. You can't bear to part with them but you also can hardly stand to wear them because they hurt so much.
My most important tip for you: buy shoes that fit. That may sound silly, but I'm sure you've caved in to that pair of heels on sale that's a half size too small but you can (kind of) squeeze into them. Spoiler alert: they won't be comfortable!
Now that you've got shoes that fit, let's make them into a cozy little getaway for your feet.
Dr. Scholl's Stylish Step High Heel Relief Insoles ($8; target.com)
Dr. Scholl's has a line of inserts designed specifically for high heels. Shoe inserts aren't just for your grandma anymore, honey. Heels unnaturally put extra weight on the ball of your foot, and this gel insert helps redistribute it.
Dr. Scholl's Stylish Step Ball Of Foot Cushions For High Heels ($5; target.com)
The full insert is best for pumps or boots, for sandals, this cushion is best. It will also help absorb some of the extra weight put on on the ball of your foot, but won't show if you're wearing your strappy sandals.
Dr. Scholl's Stylish Step Gel Heel Liners ($6; target.com)
These heel liners will help prevent what I used to think was inevitable — blisters on my heels from wearing new shoes.
Up & Up 24 Inch Moleskin Roll ($4; target.com)
Think of Moleskin as a pre-bandage for your feet. The adhesive padding is usually sold on a roll or in square sheets so you can cut off exactly how much you need and stick it right on your feet. It'll add a layer of cushioning to the parts of your feet that get hit the hardest, and act as a bandage should you still happen to get a blister.
Grab your highest heels and hit the town, there's no stopping you now.