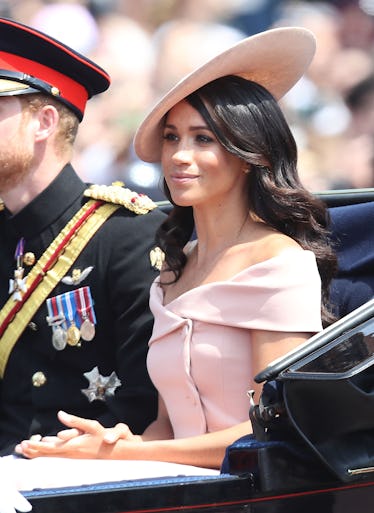 Meghan Markle Has A Secret Fashion Stylist & It's Not At All Who You'd Expect
Chris Jackson/Getty Images Entertainment/Getty Images
Meghan Markle has always dressed well, but now that she's an official British royal, her fashion game's been taken up a notch. There are many rules and protocols the newlywed must follow, and just like us regular folk, the duchess isn't above asking for advice. Who is Meghan Markle's stylist, you ask? The answer will surprise you.
Markle became the Duchess of Sussex when she wed Prince Harry (now the Duke of Sussex) on May 19, 2018. Pre-duchess days meant that Markle could theoreticaly wear whatever she wanted. Even once living in London and making appearances with her royal fiancé, Markle wore a few things that now would be forbidden for someone of her royal status. You may have noticed, for example, that Markle hasn't been seen wearing pants to any royal outings since the wedding. The former actress has also been sporting quite a few hats as of late. These, and other more subtle royal fashion rules, are now commonplace for Markle and she's expected to follow them, particularly when in the presence of the queen.
Born in California, growing up in Hollywood, Markle's upbringing doesn't exactly lend itself to a strict dress code. It's understandable that a gal like her would need some insider advice on how to fit in with her new family. Enter: Meghan Markle's fashion stylist, the one and only, drumroll please...
It's Prince Harry!
Meghan Markle's sartorial secret weapon is her own adoring hubby. Having grown up a prince, Harry definitely knows a few things about proper dress codes and is now passing on his wisdom.
The Daily Mail reported from sources close to the couple,
Meghan is always asking Harry's opinion. She really wants his views. He gives his views on what he thinks looks best, rather than helping her follow Royal protocol on hemlines or anything like that. The joke is that Harry is Meghan's surprise stylist.
So scratch that part about Harry passing on his knowledge of royal fashion rules, the guy just wants his wife to look her best! Of course, they do still have to abide by the queen's style wishes.
Awww.
For the couple's wedding reception, Markle wore a Stella McCartney halter-neck gown, and Harry apparently liked it so much that he's tasked the brand with creating even more looks for his bride. The Daily Mail's source also revealed:
The special projects team at Stella McCartney are working on a few more outfits for Meghan, and Harry always comes to design meetings and fittings to give his opinions on the looks."
(Also, hot d*mn Harry looks good in a tux.)
Before Markle met Harry and she was a regular ole famous Hollywood actor, she turned to celebrity stylist Jessica Mulroney for fashion advice. The women also became good friends, and Mulroney attended and took part in Markle's wedding ceremony. The Canadian stylist's daughter was a bridesmaid and her two sons were page boys. The children walked down the aisle alongside Prince George and Princess Charlotte, and Mulroney chaperoned the children alongside Kate Middleton. So, yeah, they're pretty good friends.
Mulroney also reportedly helped choose Markle's wedding dress designer – the duo landed on Clare Waight Keller for Givenchy. Markle no doubt has impeccable taste all her own, but it's now Prince Harry's turn to offer up style advice on appropriate dress for a duchess.
Pre-wedding, while Prince Harry and Markle were in Scotland, the former Suits actress wore a black top and black pants that, while chic AF, would now be a no-no. For royals, black is only for funerals and other very particular occasions. Furthermore, female members of the royal family are discouraged from wearing pants during such official outings.
Post-wedding, at a royal garden party, Markle looks so different. The duchess is wearing pantyhose, a hat, and lighter colors, all in line with royal fashion decree. Markle would look amazing no matter what, and she has her own exquisite sense of style, but I must extend a polite clap to Prince Harry, who's done a brilliant job aiding in Markle's royal style transition.