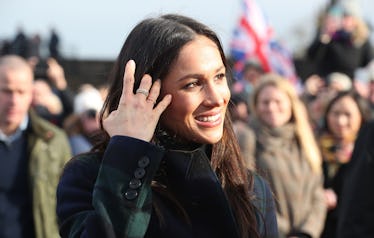 Meghan Markle Just Completely Switched Up Her Hairstyle & It's Legit Hair Goals
WPA Pool/Getty Images Entertainment/Getty Images
Now that Meghan Markle is a royal-in-waiting, people like you and I can't get many sneaky paparazzi photos of her on the street, and are forced to wait for official royal outings. Thankfully, the American actress just accompanied her fiancé on a royal trip to Scotland, and photos of Meghan Markle's Edinburgh look show she's out with the old messy bun — and in with the new sleek waves.
Markle and her fiance Prince Harry visited Edinburgh Castle on Valentine's Day Eve (Feb. 13) and greeted crowds that had been waiting for them since the early hours of the morning. "Thank you for waiting in the cold for us. It's chilly," Markle reportedly said to some of the gatherers — the temperature was slightly below 40 degrees Fahrenheit. While in Edinburg, the couple will visit Social Bite, a café which helps to feed the homeless (George Clooney is a supporter of it, too), and then they'll be off to the Palace of Holyroodhouse, the Queen's official residence in Scotland.
This trip to the Scottish capitol is the latest on their engagement tour of the U.K. Markle and Harry's previous trip was to Cardiff Castle in Cardiff, Wales where the former Suits actress rocked a low-key lazy hairstyle (and I loved it). Markle's messy bun also made an appearance in Brixton before that, and I was starting to think it would be her new signature look. The bride-to-be has changed it up though and wore a more polished, but still relatable, style on this trip to Edinburgh.
Markle swapped out her messy bun for a loose wave look, and I'd say those waves are as close to perfection as anyone besides Beyoncé can achieve.
See what I mean?
Markle's hair, while looking like it was sculpted by a Greek god, acted just like my hair would if I walked around town on a cold windy day (minus the royal fiancé.) Her hair blew in the wind...
...and fell in front of her stunning face. All the while it looked both alluringly casual and elegantly polished at the same time — something I strive for on a daily basis with my hair, but only manage to achieve the more unkempt half of the look.
For the most part, her hair looked irresistibly smooth. Markle has said in the past that she "religiously" uses Kerastase Nutritive Masquintense ($21; kerastase.com) which treats dry, damaged hair, as well as Kerastase Nutritive Serum Oleo-Relax ($40; kerastase.com) which helps to smooth out frizz. Both of those products can help you achieve Meghan's sleek look and survive a blustery Scottish day.
Markle and Prince Harry met a Shetland Pony named Cruachan on their visit, he's the official mascot of the Royal Marines Scotland Band, and his hair was almost as good as Markle's. Seriously though, look at those effortless waves in his tale.
Watch to the end of the video and you'll see Cruachan try to take a bite at Harry! Oh and did you notice that Meghan and the pony are twinning?
Markle wore a festive Double-Breasted Tartan Wool And Cashmere-Blend Coat by British label Burberry ($2,895; netaporter.com), and she fit right in with her new countrymen. Markle's bag is also from a British brand, the Strathberry East/West Mini Crossbody Bag in Bottle Green ($545; strathberry.com) is already sold out everywhere but should be restocked soon because give the people what they want!
Once indoors, Markle showed off her sailor style pants and black turtleneck. The turtleneck is actually a bodysuit, the Wolford Colorado Body in Black ($250; wolfordshop.com), and her pants are the Veronica Beard Adley Pants in Black ($395; veronicabeard.com), but the navy blue version may now be easier to come by.
Cheers to this royal appearance, and to hopefully seeing Prince Harry in a kilt soon.