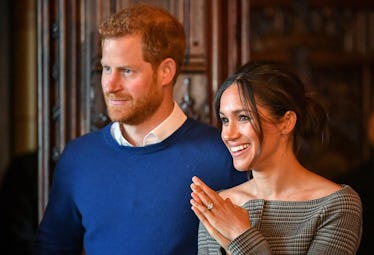 We Finally Know What Time The Royal Wedding Is Happening & You Have No Excuse To Miss It
WPA Pool/Getty Images Entertainment/Getty Images
Since the day dream couple Prince Harry and Meghan Markle announced their engagement, people everywhere have been begging for more information. Finally, our prayers have been answered. Thanks to palace officials, we finally have some new details about Prince Harry and Meghan's wedding, as reported by People, and it's miraculously not airing in the middle night in the U.S.
On Feb. 11, palace officials gave us the skinny on when and what to expect concerning the special day. As previously announced, the wedding will take place Saturday, May 19, and they've now confirmed that it's happening at 12 p.m UK time. So for the Americans looking to tune into the occasion (and let's be honest, who isn't?), you'll need to set your alarm for no later than 7 a.m ET. Not too shabby, considering William and Kate's wedding took place at 6 a.m ET on a Friday.
Following Harry and Meghan's "I do's" at St. George's Chapel, the newlyweds will follow tradition with with the classic horse-carriage ride through the streets of Windsor, the Palace revealed in a new statement. Prince Harry and Markle then plan to travel through the town of Windsor and back to the castle. The couple will be married by The Archbishop of Canterbury, Justin Welby, while the full chapel service will be led by David Conner, the Dean of Windsor. Kensington Palace's statement also detailed the couple's wish to enjoy some time outdoors and hope their guests will as well.
They hope this short journey will provide an opportunity for more people to come together around Windsor and to enjoy the atmosphere of this special day.
Rumors started flying in 2016 that the two were in a relationship. Finally it was confirmed that the couple was, in fact, a couple later that year, in November 2016. Markle and Harry announced their engagement on Nov. 26, 2017.
Details about the wedding have slowly come out over the past few months, most notable being Markle's intention to put her own stamp her special day. According to the UK's The Times, Markle intends to deliver her own speech at the wedding, a tradition that typically is done by the bride's father, groom, or best man. In addition, E! reported that Markle plans to have her mother walk her down the aisle, as opposed to her father. Another source disclosed some information to US Weekly about the special day, particularly that the wedding isn't intended to be as large and extravagant as a typical royal wedding.
The source said,
The day of the wedding itself will certainly hold a few unconventional surprises. Don't expect a royal wedding by numbers. They want to involve their friends and family as much in as much as possible throughout the day.
So as the royal wedding is less than 100 days away, some very special people should expect invitations in their mailboxes very soon. According to US Weekly, Markle and Harry plan to send the wedding invitations out in "the first week of March." While there was some speculation on whether Sarah Ferguson, the ex-wife of the Duke of York, would be invited to the affair; it has been confirmed that is. A source confirmed this to US Weekly through a statement.
The source said,
Invitations for Harry and Meghan's wedding are expected to go out the first week of March. Despite reports to the contrary, Sarah Ferguson will be receiving one and attending. Harry has always intended to invite Sarah to the wedding. He is very close to Eugenie and Beatrice and their mother is just as much family as their father. Harry and Meghan have total control over who goes to the wedding and there was never an issue at the Palace about Sarah being invited. No push back from anyone.
So set that alarm and gear up for one of the most romantic days of the year. If you need to find me that Saturday, I'll be the one ugly crying in my PJs.