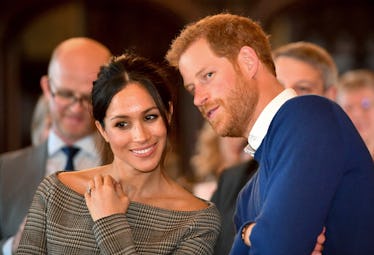 Meghan Markle Will Reportedly Break Tradition In A Pretty Badass Way At Her Wedding
WPA Pool/Getty Images Entertainment/Getty Images
The planning of the royal wedding has been a blast to watch unfold. Part of what has made it so exciting is the fact that Meghan Markle DGAF about tradition, and has made tons of tweaks in order to do things her way. She's turned Buckingham Palace on its head with the latest update. Meghan Markle's speech at her wedding will definitely a first for the royals. While it sounds like a small request, the bride making a speech at her wedding is actually extremely uncommon.
Markle won't officially become a royal until the wedding in May, but she's already making big moves to assert her authority. Jezebel reported that Markle is planning to make a toast at her wedding — a duty that is usually reserved for the father of the bride, groom, or best man.
There was some conversation surrounding the question if Markle's dad would be in attendance at the wedding. Meghan Markle's dad, Thomas Markle, is a now retired, Emmy-nominated lighting director. At 73, he lives a relaxing and low-key life in a small town in Mexico, according to Daily Mail. His extremely private life had onlookers skeptical about his participation in the wedding.
Thomas did finally break his silence about the engagement — or he was just badgered enough by paparazzi to give a statement. As reported by Elle, Thomas said,
I think it's wonderful ... I'm very delighted ... I think they're [a] very good match. I'm very happy for them, Meghan and Harry. I love my daughter very much — Harry's a gentleman.
I think that will be the only thing we'll be hearing from Thomas for now because he finished up his statement by saying,
Now leave me alone, please ... Don't bother me any more. No more flashing cameras in my eyes or I'll flash back.
Fair enough. Rumors were circulating that Markle would actually be escorted down the aisle by her mother, Doria Ragland. The two are famously close, and it wouldn't come as any surprise. Markle's parents got divorced when she was just six years old, and the Suits actress has been very vocal in past interviews about her cherished relationship with her mother.
However, Thomas' family confirmed that he will be in attendance at the wedding. This is leading fans to predict that he will be walking his daughter down the aisle. Although, when it comes to the speech during the reception, Thomas may decide to stand down. Since her father is so reserved, Markle may just give a speech by her own damn self. A source told Jezebel,
The feeling is if Meghan's father doesn't speak for her, she wants to have the chance to thank her husband and everyone who has supported them. Harry thinks it's a great idea.
I love that Markle is adding her own fingerprint to the wedding. The speech is not the only tradition the royal-to-be plans on breaking. Markle reportedly will also be choosing a maid of honor, which is not normally done, and their wedding may be much smaller than the ones we have seen in the past. A source told Us Weekly,
And while it is very much a British wedding, expect a few American touches too. She's not picked a chief bridesmaid, she's chosen a maid of honor.
The source continued,
The day of the wedding itself will certainly hold a few unconventional surprises. Don't expect a royal wedding by numbers. They want to involve their friends and family as much in as much as possible throughout the day.
I'm sure every detail of their wedding will be gorgeous, romantic, and lovely. The royal event will take place at Windsor Castle's St. George Chapel on May 19, 2018. LITERALLY SO SOON. Deep breaths, people.
Check out the entire Gen Why series and other videos on Facebook and the Bustle app across Apple TV, Roku, and Amazon Fire TV.