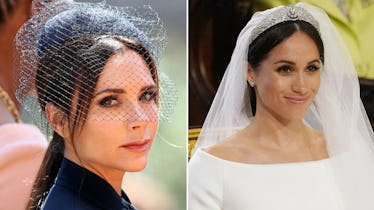 Victoria Beckham Said The Sweetest Thing Ever About Meghan Markle's Wedding Dress
WPA Pool/Getty Images Entertainment/Getty Images
Are you sick of hearing about the royal wedding? GOOD, ME NEITHER. And if by the off chance you are, I highly suggest you escort yourself out of this post, because we're going to be gushing about Prince Harry and Meghan Markle, Duke and Duchess of Sussex some more. The entire wedding day looked like absolute perfection, but the real showstopper in my eyes was, of course, the bride. Meghan stunned in her gown, and she looked so effortlessly gorgeous that it makes me question how life could be so unfair. (She's beautiful, successful, smart, married to a prince, and I... well, I make jokes and love to eat Doritos in my spare time). But I'm not alone with this thought, because many others felt that the new Mrs. Prince Harry stole the show, and Victoria Beckham's comments on Meghan Markle's wedding dress are so, so accurate.
According to People magazine, Beckham sat front and center while the couple were reciting their wedding vows at St George's Chapel at Windsor Castle and said that Meghan "looked absolutely beautiful."
In an interview with the Evening Standard, Posh Spice revealed bits and pieces about the royal wedding (though wouldn't confirm nor deny if there was a Spice Girls reunion at the reception, so that's a bummer), and said that Meghan's wedding dress "really suited her," and threw Prince Harry a compliment for good measure. She said,
I thought she looked absolutely beautiful. It really suited her. I thought it was perfect for her. And Harry looked great.
And it's true: Meghan's wedding dress was classic and simple, opting for a timeless look rather than wearing a dress that was overloaded with detailing. It was pared-down and elegant, and Kensington Palace actually revealed a few details about the dress' design that were most likely looked over:
True to the heritage of the house, the pure lines of the dress are achieved using six meticulously placed seams. The focus of the dress is the graphic open bateau neckline that gracefully frames the shoulders and emphasises the slender sculpted waist. The lines of the dress extend towards the back where the train flows in soft round folds cushioned by an underskirt in triple silk organza. The slim three-quarter sleeves add a note of refined modernity.
Maybe you thought it was too plain. Maybe it wasn't something you expected. Say what you want, but to me, personally, Meghan Markle's wedding dress was actual #goals.
And let's not forget about her incredible accessories — Meghan's beautiful, lengthy veil with floral lace detail along the hemline, and that stunner of a headpiece, which was Queen Mary's diamond bandeau tiara. According to Kensington Palace, the tiara "was made in 1932, with the centre brooch dating from 1893," which Queen Elizabeth lent to Meghan for her wedding day.
Perfection.
Beckham also commented about the wedding day in general, and said that it was the "best day" and that the love between Prince Harry and Meghan could be felt by others:
It was such a beautiful, incredible wedding. It was just the best day. They looked so happy, and everybody was just so happy for them. Meghan seems like a genuinely lovely woman, who really loves him. It felt very real, very honest.
BRB, sobbing.
When asked if Beckham was nervous at all for the royal wedding (I mean, even just being a guest has to be somewhat anxiety-inducing), she said, "I wasn't nervous, no. I was just really honored to have been invited. I would have been nervous if it had been my day."
Gotta keep it cool, gotta keep it Posh.