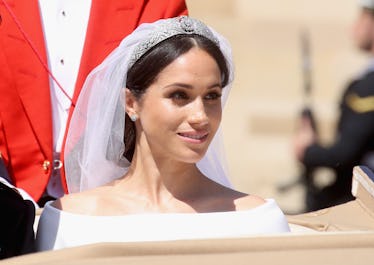 Meghan Markle's Makeup Artist Dished On Her Wedding Day Makeup & His Tips Are So Clutch
Chris Jackson/Getty Images Entertainment/Getty Images
Many, many months and important events later, it seems everyone is still obsessing over Meghan Markle's wedding day makeup — and rightly so. From her freckles to her natural glow, the whole vibe was so right. Who can blame the rest of us for wanting to imitate the Duchess of Sussex and her flawless no-makeup makeup look? There's no shame in my "constantly researching how to master a Markle-esque complexion" game. And I'm not the only one!
As someone who tends to cake it on — I'm a little heavy-handed with the foundation, I admit — the appeal of Markle's look lies in its less-is-more approach. Ever since it was announced that her friend and makeup artist, Daniel Martin, was the man behind the makeup, myself and 78.9K others have been following him on Instagram and praying he might spill some insider deets.
As a Dior Brand Ambassador and the Creative Color Consultant for Honest Beauty, Martin is no stranger to glamming famous faces. He's worked with major celebrities, including Demi Lovato, Olivia Culpo, and Jessica Alba, just to name a few. What I'm saying is, you've probably gushed over your favorite celeb's makeup without even realizing that Martin was to credit. While he's loaned his talents to the stars on a variety of big occasions, none will ever be as major as a royal wedding, so when his friend, Meghan, asked him to be there on her big day, he was honored.
Martin recently appeared on Good Morning America to talk about the Duchess and her beauty favorites, and believe me when I say I took notes. He also helped update the host's makeup bag and listed his top five products for every women. The lineup? A great mascara, concealer, a "no-brainer" lipstick, blotting papers, and an emollient to mix with.
Then, he did what we were all waiting for: He dished on the wedding day look. "It wasn't about a trendy makeup. It wasn't about a lot of eye, or a lot of lip," he said during the interview. "It was about her, and her being confident."
Above all, the most covet-worthy part of the glam was Markle's flawless complexion. Her famous freckles were on full display, yet her skin still appeared perfected and airbrushed. According to Martin, this effect was achieved by spot-treating with foundation and concealer, instead of covering the face with one layer. "I used it only where I needed to balance out any redness or uneven skin tone," said Martin, "and that was when you're able to see her freckles come through."
To successfully spot treat and achieve this natural look, your best bet is to opt for a foundation or concealer that offers full coverage, but is lightweight and blendable enough to be placed in specific areas and transition seamlessly into the rest of the skin — to do so, it must be your exact skin tone. The Marc Jacobs Shameless Foundation ($46, marcjacobsbeauty.com) has 29 shades featuring cool, warm, and neutral undertones, so it's a good option to find the one that suits your skin best.
For a daytime eye that still felt sultry and smoldering, Martin went for a chesnut eyeshadow, blended out with his fingers to complement Markle's eye shape, followed by a chocolate brown eyeliner. He then proceeded to add false lashes to her outer corners for the final touch.
To achieve the same look without splurging on a ton of products, try out the Surratt Smoky Eye Baton ($35, sephora.com) in shade "Fumee Brun," a dual-sided eyeshadow and eyeliner pencil in neutral brown tones. If you're not blessed with Markle's freckles, the liner side could even double as a tool to create some of your own.
In even the most zoomed-in photos, it really doesn't look like Meghan has false lashes on, which shows how skilled Martin is at his craft. It's unlikey that he threw a half lash on her outer third, as it might have looked a bit unbalanced, given the overall natural eye makeup. I'm willing to bet that he placed on individual false lashes, like those in the Ardell Individuals lash kit ($5, ulta.com).
Now that I've got Martin's tips, I'm feeling especially confident in my ability to master Markle's wedding look once and for all. I'm especially loving how adamanet he is about the makeup being all about embracing her beauty, not covering up her flaws. As Martin tells Good Morning America, "She's a person who is very comfortable in her own skin. So she doesn't need to wear a lot."
Did his words just become my new beauty mantra? I think yes.