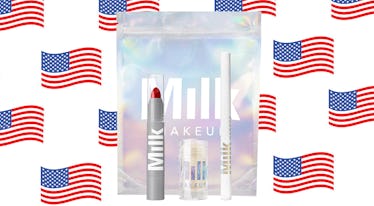 Milk Makeup's Firewerk Set Will Definitely Add Some Spark To Your July 4 ~Lewk~
Milk Makeup
If Instagram has taught me anything, it's that holiday-inspired makeup looks are always a strong "Do." So with the Fourth of July fast approaching, I've been brainstorming what products might fit a red, white, and blue look. Like an answer to my beauty prayers, Milk Makeup's Fourth of July Firewerk Set has just been announced, and you can bet your lucky stars I'll be picking it up ASAP.
For holidays like Halloween, makeup can be anything from intricate skeleton markings to spiderweb liner. At Christmastime, the painstakingly detailed candy cane eyeliner had us all practicing our stripes. And of course, just about anything with glitter goes when it comes to New Year's Eve glam. But what about the Fourth of July? Granted, blue is a bit of a wild card when it comes to makeup, but red lips are a staple in the beauty world, and a little white can help any look pop! How hard can it be to create a patriotic look that makes freedom ring, right?
Just when I was starting to wonder how many brown liquid liners I'd need to sketch an eagle above my winged liner, Milk Makeup came to the rescue and announced their Fourth of July Firewerk Set ($30, Milk Makeup).
The three-piece set contains summer essentials that, according to Milk, can help you "firewerk it." Do you see what they did there?
Milk has a great reputation for fun products that are also vegan and cruelty-free, so I was more than curious to find out what they included in their patriotic holiday kit. Inside the holographic bag, you'll find the Lip Color in O.G. Red ($22, Milk Makeup), the Tattoo Stamp in Star ($12, Milk Makeup), and a Mini Glitter Stick ($14, Milk Makeup). In total, that's $48 worth of product for only $30, which is pretty great value.
O.G. is a demi-matte lipstick formula in marker-inspired packaging, giving you the perfect grip to control the bright shade and carve the perfect Cupid's bow. Shea butter, coconut oil, and grapefruit peel oil keep the formula moisturizing, so you won't have to worry about any dry, crusty product on your lips interrupting your Fourth of July BBQ eats. We've all been there. It's also a very long-lasting formula, so it'll stay put through even the longest fireworks displays.
If you're not ready to go full Kat Von D and tattoo stars on your face, you're in luck. Milk's Tattoo Stamp is a much more temporary solution. Just press the stamp on your area of choice and a long-lasting, transfer-proof star will appear. And if you make a mistake, an oil-based makeup remover can act as a quick fix. Star knuckle tatts above a red, white, or blue manicure are a great idea, but a teeny, tiny star next to some fierce winged liner? Now that's a statement. The best part about there being so many ways to play with the Tattoo Stamp is that your friends can get in on the action, and you can selfie away with all of your uniquely styled stars. Total Fourth of July goals. Total friendship goals. Our Founding Fathers could never.
What's the point of attending Fourth of July parties without an incredible highlighter? Trick question — there would, in fact, be no point, which is why the Mini Glitter Stick is such a lifesaver. This rainbow glitter sheen is not for the faint of heart and can be built up to total unicorn status if desired. Seeing as we all have about a thousand highlighters now (that's not just me, right?), a mini version is an ideal way to figure out if you really need to splurge on the full size product. After all, fireworks are sparkly, so your cheekbones should be, too. That's the whole reason Katy Perry wrote that song, I think.
Red? Check. White (glitter)? Check. Stars? Check. I feel like we're missing something...
Hello! Milk, why isn't your stunning Electric Blue Eye Pigment ($24, Milk Makeup) in this kit? We're talking patriotic perfection, here! The Firewerk Set features great products for awesome savings, and you can definitely create an extra AF look with just the kit, but I am most definitely adding this cream shadow to my cart as well. After all, it's a holiday, and I insist on doing the most.