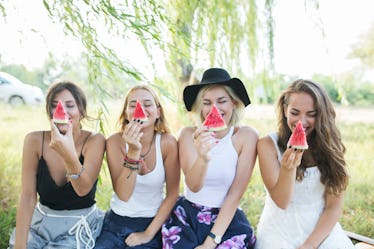 7 Unique Fourth Of July Traditions To Start With Your Girls Now & Continue Forever
Once the Fourth of July rolls around, it truly feels like summer. There's nothing better than taking time off from work to celebrate the USA, soak up some rays at the beach, and partake in festive activities with your favorite people. If you want to try something new this year, revamp your usual barbecue celebrations and come up with a few unique Fourth of July traditions to start with your friends now, and continue forever.
July 4 is all about celebrating with your nearest and dearest, so why not use this special day to ditch your work planner, sip on something refreshing, and just have a great time? You deserve some fun in the sun, and although your holiday festivities may not be as star-studded as Taylor Swift's, they most certainly will be filled with a bunch of new memories, lots of love, and (hopefully) plenty of red, white, and blue shots to go around (if you're in the 21 and up crew).
I'd say it's about time to get ready to embrace the good vibes and tan lines. Enjoy the start of whichever new traditions you and your squad want to partake in (just don't forget to play some awesome tunes, too).