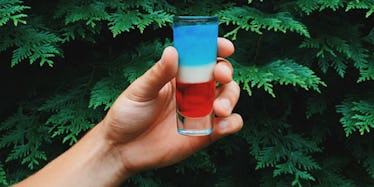 6 Festive Shots That Need To Make An Appearance At Your Fourth Of July Rager
One of the best ways to ring in Fourth of July is by throwing an epic party all of your guests will remember for years to come.
It's not all about chill barbecues and relaxing in the sun, although I'm sure many of us have a weekend jam-packed with them.
If you're in the mood to party, you can totally turn any Independence Day celebration into the ultimate rager, complete with perfectly festive eats and cocktails.
Let's be honest: Cracking open a refreshing beer to beat the heat is fine and all, but there's truly no better Fourth of July companion for a cheeseburger than a red, white, and blue shot.
LMFAO would probably be the first to back me up on this one.
For those of you who are throwing a holiday party of your own, here are some easy recipes for shots you can make at home so your party guests will be cheering, "Shots, shots, shots, shots, shots, shots…" all day long.
1. Layer It Up
Leave your sweaters and sweatpants at home, because this rager is set to sizzle all day long.
It will probably be hot AF outside this Fourth of July, so the only layering going on at this party will be these layers of red, white, and blue shots.
2. What's Cuter Than These Star-Shaped Jell-O Shots?
For the host who's all about patriotic presentation, don't just stop at the red, white, and blue layers... have festive star-shaped shots, too.
Mix things up, and have fun with your alcohol spread.
3. A Party Wouldn't Be Complete Without The Fireworks
Seriously though, what's a Fourth of July party without a spectacular fireworks show to finish the party off with a bang?
These shots are pretty much like mini fireworks in a glass. There's also a non-alcoholic version of this recipe for your friends who don't drink, too.
Your guests will definitely love having a firecracker shot in hand as they gaze up at the red, white, and blue fireworks lighting up the evening sky.
4. Don't Forget The Whipped Cream To Top
OK, I have to admit, this one isn't exactly a shot recipe, but it's too adorable to leave off this list. Why not take back a shot of Malibu to accompany this sweet Jell-O cup?
This is a simple tutorial for individual dessert cups all of your friends will instantly devour. They're complete with a topping of whipped cream and sprinkles.
5. Sprinkle On The Red, White, And Blue
This Instagram-worthy version of a Fourth of July Jell-O shot has a more subtle take on the red, white, and blue theme with just sprinkles on top... and a cherry in the middle.
Your guests will surely go wild over these cubes, so make sure you whip up enough.
6. Drop It Like It's *Shot*
Your party will be totally lit with these patriot missile shots. It's time to get this rager started.