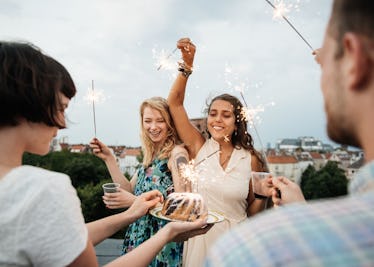 23 Best Instagram Captions For Your Fourth Of July Party
Nothing feels more celebratory than rounding up your squad for a lit Fourth of July party.
A great way to spend America's birthday is to drink beer, barbecue it up with your closest friends, and lounge on some red, white, and blue pool floats.
The day would be incomplete without watching an awesome fireworks show that would make even Disneyland pretty jealous. And to top it all off, all of these activities are totally Instagram-worthy.
You have the day off, so it's your free time for the taking. Don't do any work stressing over the ultimate caption to go along with the pics you want to share.
Whether you want your caption to be funny, inspirational, or just patriotic AF, here are 23 ideas you can use for your spectacular Fourth of July party.
1."He makes me melt like a popsicle on the Fourth of July." -- The Little Rascals
2. "Red wine and booze."  -- Unknown
3. "Baby you're a firework." -- Katy Perry, "Firework"
4. "I'm sorry, I can't hear you over my freedom." -- Unknown
5. "Snap, crackle, and pop." -- Kellogg's Rice Krispies
6. "Raisin' my glass, to those kickin' ass for our freedom" -- Unknown
7. "I'm just like my country -- I'm young, scrappy, and hungry, and I am not throwing away my shot." -- Hamilton
8. "Party in the U.S.A." -- Miley Cyrus, "Party In The U.S.A."
9. "Bold stripes, bright stars, brave hearts." -- Unknown
10. "If it involves fireworks, summer nights, barbecues, diet coke, and freedom -- count me in." -- Unknown
11. "Party like it's 1776." -- Unknown
12. "Let freedom ring." -- Samuel Francis Smith
13. "Cheeseburger in paradise." -- Jimmy Buffett, "Cheeseburger In Paradise"
14. "Established 1776." -- Unknown
15. "I like my coffee black and my tea in the harbor." -- Unknown
16. "Grillin' and chillin'.'" -- Unknown
17. "Shoot for the moon. Even if you miss, you'll land among the stars."  -- Les Brown
18. "Ask not what your country can do for you, ask what you can do for your country." -- John F. Kennedy
19. "Be excellent to each other. And… PARTY ON, DUDES!" -- Bill & Ted's Excellent Adventure
20. "All our dreams can come true, if we have the courage to pursue them." -- Walt Disney
21. "If you can dream it, you can do it." -- Walt Disney
22. "Patriotism is supporting your country all the time and your government when it deserves it." -- Mark Twain
23. "They hate U.S. 'cause they ain't U.S." -- Unknown