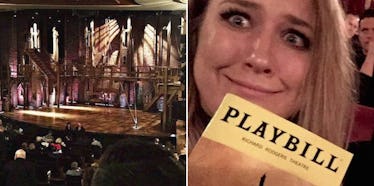 I Finally Saw 'Hamilton' After Two Years Of Waiting And My Body Wasn't Ready
Kelli Boyle
On Saturday, April 1, I became a whole woman. For on Saturday, April 1, I finally saw "Hamilton" WITH MY OWN TWO EYES.
THAT'S RIGHT, PEOPLE. I AM OFFICIALLY BETTER THAN YOU.
LMAO, just kidding. I'm literally a heaping pile of garbage with a pulse at the bottom of a flaming dumpster pile, I literally have no idea how I saw this show.
Basically, how all of this went down is I was sitting at my desk one day, minding my own business, when my co-worker, Mary Kate, turned to me out of the blue and said, "Do you want to see 'Hamilton' next week?" I literally spit my water and replied, "What did you just fucking say to me?"
Let me make one thing clear: There used to be nothing in this world I loved as much as I love Beyoncé. She is my lord. She is my light. She is my savior.
But now, there are two things I love most in this world: Beyoncé and "Hamilton." This show is the Beyoncé of Broadway. That is literally the highest compliment I can give.
I was on the N train from Queens into Manhattan on my way to work when the soundtrack first dropped on NPR in 2015 (honestly, Lin, that was so rude of you to just drop it on me like that). And the second I heard Leslie Odom Jr.'s sweet, velvety voice crooning into my plebeian, un-fucking-worthy ears, I was nothing. "Hamilton" was instantly EVERYTHING.
So, flash forward to the moment Mary Kate asked if I wanted to see it, and we're back to the part where I nearly murdered my laptop from spitting water all over it.
"What did you just fucking say to me?" I asked Mary Kate. "I just got an email for tickets to go see 'Hamilton' on April 1, but my mom will be in town and I've already seen it. Do you want to go?" she said.
Wait, April 1? LMAO, this all makes sense now. This was an April Fool's prank, and Mary Kate was Satan.
OK, I'm sorry, Mary Kate. That was rude. You were just the messenger. I really shouldn't take it out on you. But also, you deserve it.
THE JOKE CONTINUED FOR A SOLID TWO WEEKS, emailing me confirmation after confirmation to "reassure me" that "this was actually happening" and "I had two tickets to 'Hamilton' on April 1." Honestly, the gaul. But I ran with it.
I responded to all of the emails with the faintest hope that this was all "real" and "happening." Refusing to suffer this fate alone, I promised my main bitch/fellow pile of garbage, Katie, the other "ticket."
When April 1 came around, I still didn't believe it was happening. I was fully prepared to show up to the theatre only to see a crowd of people and also photographers laughing in my face because I actually thought I was going to see "Hamilton" on April Fool's Day.
BUT GUYS, IT ACTUALLY HAPPENED. THEY LET US IN THE THEATRE. WE SAW THE SHOW. I TOOK SHOTS WITH GEORGE WASHINGTON. I THREW UP IN KATIE'S BATHROOM AFTER.
OUR ACTUAL SEATS.
OUR ACTUAL FACES WITH OUR ACTUAL BUTTS IN SEATS.
THE ACTUAL THEATRE THAT WE ACTUALLY WENT INSIDE.
THE ACTUAL AFTER PARTY WHERE WE WERE ON THE ACTUAL LIST.
It happened. It was real. It was majestic. Cara Delevingne was there. LMAO.
As an official person who officially matters because I have now seen "Hamilton," I can say this show lives up to its hype. I was terrified I would go into the show and it wouldn't live up to my (extremely high) expectations, but it exceeded them.
I can't go into any more detail about how good the show is cause I'm literally just dead now. Like, I'm six feet under, typing this from the grave Lin-Manuel Miranda dug for me.
Suffice to say, after two long-ass years of waiting, I finally saw "Hamilton." And god damnit, was it worth the wait.