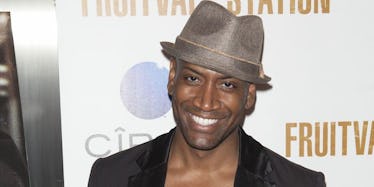 'Hamilton' Star Reveals Obama Inspired His 'Life-Changing' First Performance
REX/Shutterstock
I'm not on Broadway or anything, but I imagine having "Hamilton" on your acting resume has the same level of clout as "Beyoncé touched me once."
"Hamilton: An American Musical" turned the world upside-down when it premiered at the Richard Rodgers Theatre in August of 2015.
Since then, the show about American history has made its own history with a record-setting 16 Tony Award nominations, 11 Tony Award wins, a Pulitzer Prize for Drama and a Grammy.
So how does it feel to actually be in the show (and not just obsess over the album and die a little inside every time you think about the fact that you haven't seen it yet)?
Well, a couple of weeks ago, I had the opportunity to ask that question to Bryan Terrell Clark, who has been playing George Washington since January 10, 2017.
I first met Clark at a Dave & Busters in Times Square. (IT'S A LONG STORY, but all you need to know is I am an EXPERT networker when buzzed off of overpriced tequila.)
Two weeks later, Clark came into the Elite Daily office for an interview.
He told me he was working on a world of things when the opportunity to audition for "Hamilton" came about, but he dropped everything to be in the show. (Because obviously.)
I was actually out in LA and my agents were like, 'You need to get back for this final callback,' and I was like, 'No, I've seen everybody in the room, everybody's seen my work already, why do I have to go back?' And they were like, 'You need to go back for producers,' and I was like, 'Oh, this is the final thing.' So I jumped on a plane. It's 'Hamilton,' you jump on a plane.
"Hamilton" tells the life story of the nation's first Secretary of the Treasury, Alexander Hamilton, from the time he arrived in the American colonies as an orphan immigrant from the Caribbean all the way to his death at the hands of Vice President Aaron Burr. (This is not a spoiler, read a history textbook.)
Hamilton worked as George Washington's right-hand man throughout the Revolutionary War and his two terms as president. Clark is the third person to officially play Washington since the show opened.
But what's truly revolutionary about Lin-Manuel Miranda's "Hamilton" is the cast is all people of color, so it's America today telling the story of America then.
The show is also completely rapped and sung through. Miranda uses rap as the music of the revolution because rapping, as he puts it, is all about writing your way out of your circumstances — something Hamilton definitely accomplished.
Before taking on the role of the first president of the United States in "Hamilton," Clark played Marvin Gaye in the original broadway cast of "Motown: The Musical" and music producer Terry Lewis in BET's "The New Edition Story."
The guy has pretty much made a career out of playing people who actually lived.
But Clark says George Washington is different than any other character he's embodied. He says, "There's a weight to Washington that has never been in any character I've ever played." He continues,
Playing George Washington requires a level of truth and a level of integrity, I think, that allows you to almost feel like it's like growing roots. Playing him feels like, internally as an artist — not to wax too spiritual — it almost expands you in a way.
He adds, "I've been really blessed to do the research and learn who these people are."
Clark told me of the time he met Sharon Stone after a performance of "Motown" to exemplify the need for an actor to step aside and let the spirit of their real-life character come through.
Every time you take on a role, it requires a part of yourself, but when you play somebody that's real, there's a part of you that has to move out of the way and allow space for who that person really was to kind of take over.
He tells me he's never told this story on camera before, and he warns it tends to freak people out. He says,
I met Sharon Stone after the show. And she grabbed me by the arm and pulled me in a corner and she's like, 'I need to talk to you.' And I was like, 'OK.' So Sharon Stone is Sharon Stone, right, you can't stare in her eyes too long. You'll, like, disappear or something. So she's like, 'I'm watching your work, and you're an incredible artist, and I feel Marvin Gaye's presence around you.'
Clark demonstrates Stone touching his face, and then his chest, and says she told him, "Don't be afraid. Don't be afraid. Just let him in, just let him in, let him possess you."
There are plenty of times throughout the show where Clark and his cast mates feel the presence of our founding fathers. He says,
There is a level of allowance and letting go. Not to freak anybody out, but you definitely feel the presence of these people. The forefathers' presence is in the room and it's palpable. You can feel it.
There was a moment during a performance of "Hamilton" when Clark felt the presence of an actual person he was embodying, but it wasn't George Washington.
As previously mentioned, Clark's first performance as President George Washington was on January 10, 2017. That date should ring a bell.
It was the day Barack Obama gave his final speech as President of the United States.
When asked what his favorite Washington moment in "Hamilton" has been, Clark says this was it. It's a moment that produced a feeling so intense, he's "still chasing" it.
I was singing 'One Last Time' while Barack Obama was giving his One Last Time speech in Chicago. It was cathartic and moving and life-changing, and something happened on that stage for me as an artist that I'll never forget. It was very in-body. I talk about it all the time. I'm not one of those artists who has the pretty Audra McDonald, Denzel Washington cry and then can still sing clear as a bell. I don't have it.
Obama's last speech was at 9 pm on Tuesday, January 10. "Hamilton" starts at 7 pm on Tuesday nights, and "One Last Time" — a song that literally quotes Washington's farewell address that set the precedent for US presidents only having two terms — comes around halfway through act two.
So it's almost certain that Clark was singing Washington's farewell address at the same time Obama was giving his. Clark says he felt his life change in that moment.
So my hands started to shake, and I started to sweat, and my voice was shaking and I was crying. It was like this crazy experience; it's like driving a car on ice. But vocally, it came out perfect. It was great. I'm kind of still chasing that moment because it was my first night and it was so amazing.
If there was ever a time for two people to feel an inexplicable spiritual connection, it's when a black man playing George Washington is singing the first president's farewell address at the same time the nation's first black president is giving his.
Chris Jackson, who played George Washington in the original broadway cast and earned a Tony nomination for the role, had a similar opportunity in March of 2016 when the cast of "Hamilton" performed songs from the show for Barack and Michelle Obama at a special White House event.
The video was released on January 10, 2017. So, yeah, it's safe to assume "One Last Time" holds a special place in not only the hearts of Clark and Jackson, but also Obama.
The White House and "Hamilton" used the hashtag #ObamaLegacy throughout January 10 and beyond to highlight Obama's historic time in office.
His legacy will be known throughout history as one of love, acceptance and inclusivity, and Obama himself will be remembered as a beacon of tolerance.
And leaving behind a lasting legacy is one of the main themes of "Hamilton." The show's finale is titled "Who Lives, Who Dies, Who Tells Your Story," and it serves as a hauntingly beautiful reminder that we have so little time here, and once we're gone, it's up to the loved ones we leave behind to keep our legacy alive.
In Hamilton's final song, just before he's shot and killed in a duel by Vice President Aaron Burr, Hamilton says,
Legacy, what is a legacy? It's planting seeds in a garden you never get to see. I wrote some notes at the beginning of a song someone will sing for me. America, you great unfinished symphony, you sent for me.
On the legacy of "Hamilton," Clark says,
What's powerful about the show is they found a way to tell this story, and they haven't made these founding fathers just these kind of iconic people that you can't touch, they're very real. You can access them in a way in this show. I think that hip-hop helps with that. I think the way they've cast the show reminds us that America really is an unfinished symphony, as Lin wrote. It's for all of us, and we all get to tell this story because we're all an ever-growing part of that story. There's no other show out there like that. Nowhere. Nowhere.
One of Washington's most recurring lines in the show is, "Let me tell you what I wish I'd known when I was young and dreamed of glory: You have no control who lives, who dies, who tells your story."
Who knows, maybe one day Bryan Terrell Clark will be playing Obama in the musical about his legacy.