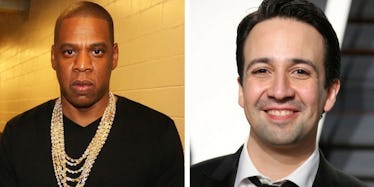 Jay Z's Teaming Up With Lin-Manuel Miranda To Turn Broadway Show Into New Movie
REX/Shutterstock
Looks like the "In the Heights" film adaptation has a solid Blueprint. Lin-Manuel Miranda's movie version of his first hit musical is getting an extra injection of hip-hop from Mr. Carter himself.
Apparently, production big-wig Harvey Weinstein announced Jay Z had signed on to the upcoming "In the Heights" movie as a producer alongside Lin-Manuel Miranda.
That just leaves me with the question... is he going to cast Beyoncé in it or what!?
It sounds like there may have been a bit of confusion around the announcement, though!
According to a Hollywood Reporter report from the pre-Oscars gala where the news broke, one of the other producers on the film, Scott Sanders, was overheard saying he had no clue Jay Z was joining the creative team until Weinstein's announcement.
Initial confusion aside, it seems like this will be a perfect pairing. Lin-Manuel Miranda has spoken countless times about how hip-hop has influenced his career and art since his ode to the genre "Hamilton" became a worldwide sensation.
And Jay Z has evolved from being solely a rap superstar to becoming one of the most powerful multi-hyphenates in the entertainment industry.
In the past five years, Jay Z has racked up producer credits on major film adaptations, such as "The Great Gatsby" and the recent "Annie" reboot.
Not only that, but Jay Z's lifelong devotion to his home city of New York easily translates to Lin-Manuel Miranda's musical about three days in the Washington Heights neighborhood of NYC.
As for when exactly we're going to see this Jay Z-produced "In the Heights" movie, it might be a little while.
Apparently the script is ready to go, but there's still that little issue of casting the thing. Miranda has already confirmed he will not be reprising his lead role of bodega owner and narrator Usnavi, but teased he still might pop up in the movie.
Production is slated to begin this spring, with "Step Up" franchise director Jon Chu directing.
Citations: Jay Z Will Co-Produce Film Version Of Lin-Manuel Miranda's Musical 'In The Heights' (Huffington Post)