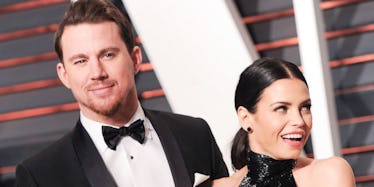 Channing And Jenna Dewan Tatum Reenact Their Romantic 'Step Up' Dance
REX/Shutterstock
Ten years ago, Channing Tatum and Jenna Dewan Tatum began the hottest relationship of all time.
We all have "Step Up" to thank for that blessing, which hit theaters August 11, 2006.  Channing and Jenna met on the set of the film, and three years later they were married.
Now, they're busy raising a child and lip sync battling and being very attractive together.  So I, for one, am very grateful Tyler Gage decided to dance his way to a scholarship.
In honor of the 10th anniversary of the film's release, Jenna and Channing celebrated in the most perfect way: Recreating their iconic dance.
And if that wasn't enough, Jenna also posted this adorable picture of the couple 10 years ago on the set along with the sweetest message.
She wrote,
#tbt to on set of Step Up. I cannot believe it's the 10 year anniversary of the release today!! Ahhhh where does the time go?? Love you all and thanks for all the love all these years.
So how do Channing and Jenna compare to their 10-year younger selves?
Yeah, I'd say they still got it.
Citations: They still have the moves! Jenna Dewan Tatum and husband Channing recreate Step Up dance scene to mark film's ten year anniversary (The Daily Mail)