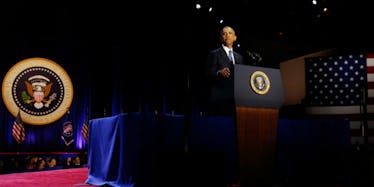 Obama Gave His Final Address And Here Were His 5 Most Inspirational Lines
REUTERS
After eight years in the position, President Barack Obama gave his farewell address on Tuesday night.
Though his goodbyes drew chants of "four more years," Obama stood by his message of believing in democracy and progressive change, which are fueled by the people of the United States.
He asked an ever polarized country to join together in a "sense of common purpose."
Obama did not speak out against President-elect Donald Trump, nor his agenda. Rather, he drew up memories of where we were in 2008, in 2012 and now, with a new president's inauguration creeping up on January 20, 2017.
He said to the many who were left hopeless by this election,
Democracy does not require uniformity. Democracy does require a basic sense of solidarity that we're all in this together.
Despite how we may have celebrated or mourned in November, Obama provided five truly inspiring lines.
Change only happens when ordinary people get involved, get engaged and come together to demand it.
Obama drew in a large amount of young voters who were disenchanted by those representing them in politics and showed them their voice was the one of the future.
You were the change. You answered people's hopes. And because of you, by almost every measure, America is a better, stronger place than it was when we started.
Show up. Dive in. Persevere. Sometimes you'll win. Sometimes you'll lose... More often than not, your faith in America – and in Americans – will be confirmed.
If anything, this election has taught us to actually rise up to the occasion to change things we dislike, whether that's by showing up to the polls or showing up to protests.
The only thing that makes me prouder than all the good we've done is the thought of all the remarkable things you'll achieve from here.
Despite the hopelessness some may have felt after this election, there is still work to be done, and we must not stop fighting for the things we consider right and just.
I leave this stage tonight even more optimistic about this country than I was when we started. Because I know our work has not only helped so many Americans. It has inspired so many Americans – especially so many young people out there – to believe you can make a difference...  This generation coming up – unselfish, altruistic, creative, patriotic – I've seen you in every corner of the country.  You believe in a fair, just, inclusive America. You know that constant change has been America's hallmark, something not to fear but to embrace, and you are willing to carry this hard work of democracy forward.  You'll soon outnumber any of us, and I believe as a result that the future is in good hands.
Obama has said it before -- he is inspired by the way his daughters view the world.
It is unfathomable in their eyes someone should be treated differently for the way they identify themselves, be it their race, religion or sexual orientation.
We aren't the first generation to fight for equality, and we won't be the last.
We can take solace in the fact the next generations will continue to grow on what we picked up and what the generations before us started.
Yes we can. Yes we did. Yes we can.
Citations: Transcript Read the full transcript of President Obama's farewell speech (LA Times)