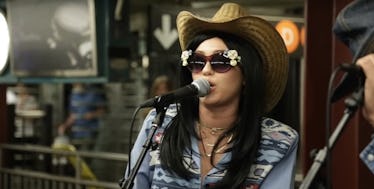 Miley Cyrus Went Undercover And Performed In NYC Subways, Fooled Literally No One
NBC
Even when Miley Cyrus is pretending to be a folk singer named Charlene who sings Dolly Parton songs in the subway station, she's still just being Miley. And we all know it.
As part of her Tonight Show takeover, Cyrus ventured down into the subway (for the first time ever) with Jimmy Fallon to give commuters a bit of a surprise performance.
Wearing cowboy hats, wigs, and sunglasses for disguises, the duo set up stage at the 50th street subway station below Rockefeller Center and belted out Dolly Parton's "Jolene."
It took about 15 seconds for commuters to figure out this wasn't your typical musical act looking for donations on a hot summer day.
Seeing as Cyrus' voice fooled absolutely no one, a crowd quickly gathered and the iPhones came out for filming.
While no one was fooled by Cyrus, it turns out, Fallon plays a pretty convincing Billy Ray Cyrus.
When the song wrapped, they took off their wigs and Cyrus treated the sizable audience to her hit "Party in the U.S.A."
Speaking on the experience on The Tonight Show on Wednesday, Cyrus said,
I didn't know how recognizable we really would be. I mean, you were getting called Billy Ray Cyrus. Right on! You were in disguise -- they knew it was me! They thought it was me and my dad. I thought it was me and my dad! And then you took [the wig] off and I was like, 'Holy sh*t! My dad is Jimmy Fallon!
The 24-year-old "Wrecking Ball" singer has actually been spending a lot of time in Nashville with her dad and fiancé Liam Hemsworth recently. She's also taking a break from drinking and smoking and really working hard on her new music -- and softer image.
Admitting the subway bit was far from the craziest thing she's ever done (she called it "the most appropriately crazy"), the former Disney Channel star said it was "super cool" performing "Party in the U.S.A." again.
She told Fallon,
It's always good for me to remember people really love those classic songs and it inspires me to do them more. I'm excited that it makes me re-love my songs, because I love how much people love them... To re-fall in love with songs that I've been singing for years and years, it's fun to just have fun singing them. Because you sing them so many times, and so when you see how much they mean to other people, even if it's something as silly as 'We Can't Stop' or 'Party in the U.S.A.' or whatever it is, it makes people happy. That's what I like to do.
I also like to make people happy, so I'm just going to leave this here for you to have stuck in your head the rest of the day. You're welcome.