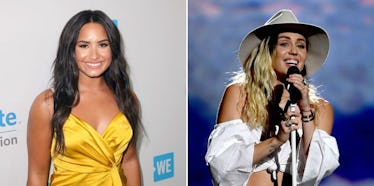 Demi Lovato Praises Miley Cyrus For Being Sober: "I Am Really Proud"
Getty Images
Demi Lovato will be the first to tell you getting sober is tricky.
The 24 year-old pop princess just celebrated five years of sobriety after struggling with drug and alcohol addiction.
Now, sister pop star and long time frenemy Miley Cyrus has given up booze and weed, and Lovato is singing her praises, saying, "I am really proud of Miley."
Cyrus recently told Billboard Magazine on her sobriety,
This is crazy, but I haven't smoked weed in three weeks, which is the longest I've ever gone without it. I like to surround myself with people that make me want to get better, more evolved, open. And I was noticing, it's not the people that are stoned. I want to be super clean and sharp, because I know exactly where I want to be.
The change in Cyrus is obvious, as her music has taken a turn from the wild to the sincere. Her latest hit, "Malibu," is jumping up the charts, and has other celeb fans like Katy Perry praising Miley for her new sound.
Cyrus also performed "Malibu" Sunday night at the Billboard Music Awards, looking gorgeous and full of calm energy.
Cyrus told SiriusXM getting sober was fairly easy and a lot of people have offered her support she feels she doesn't need.
A lot of people have reached out to me and they're like, 'You know, if you want help or if you want to go to these meetings,' and I'm like, 'No.' When I want something I can do it. Anything that I want to do, if I want to stop or start something, I can do anything. I just decided not to smoke any more, and now it's easy for me.
On Cyrus' sobriety, Lovato told The Hollywood reporter,
I am really proud of Miley. I think that it helps people to know that there are people in the spotlight that have challenges, that are faced with very stressful lives. I think it helps to know that recovery is possible and it's something that is so important to certain people like myself.
Lovato added, "Addiction doesn't discriminate, so whenever you are able to take control back, it's really admirable."
We wish both women continued success, health, happiness, and more, more, more music!
Citations: Miley Cyrus Breaks Silence on Rootsy New Music, Fiance Liam Hemsworth & America: 'Unity Is What We Need' (Billboard), Frenemies Demi Lovato and Miley Cyrus Come Together on Sobriety (Hollywood Reporter)