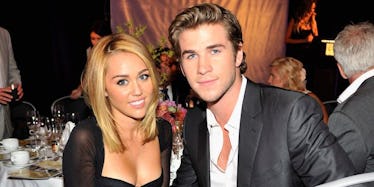 Miley Cyrus Is Dropping A Song About Liam Hemsworth And The Lyrics Are So Sweet
Getty Images
Miley Cyrus is ALWAYS just being Miley, no doubt about it, but that weirdly means something different today than it did this time last year.
The singer of twerking fame recently told Billboard that she "needed to change so much," and right now that means no more weed, a new album and a sense of renewal and rejuvenation in her relationship with Liam Hemsworth.
As part of her new album, Miley will be releasing a song titled "Malibu," that is dedicated to her relationship with the "Hunger Games" actor.
She said,
They're going to talk about me if I come out of a restaurant with Liam. So why not put the power back in my relationship and say, 'This is how I feel?'
She continued,
...'cause I needed to change so much. And changing with someone else not changing like that is too hard... Suddenly you're like, 'I don't recognize you anymore.' We had to re-fall for each other.
Full lyrics will be released when the song drops on May 11th, but for now we do have this teaser:
I never would've believed you If three years ago you told me I'd be here writing this song
It's a brand new start A dream come true In Malibu
In the meantime, Miley is sticking to sober living, putting weed and booze on the back shelf, telling Billboard she hasn't smoked weed in three weeks.
I like to surround myself with people that make me want to get better, more evolved, open, and I was noticing, it's not the people that are stoned. I want to be super clear and sharp, because I know exactly where I want to be.
For now, that means more new music and throwing herself into her currently untitled album. She said, "I know exactly where I am right now. I know what I want this record to be."
Miley, we can't wait to see (and hear) the new you!
Citations: Miley Cyrus Gets Candid About Liam Hemsworth, Weed and That Foam Finger: "I Needed to Change so Much" (E! Online)