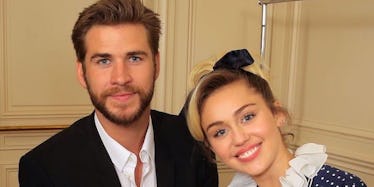 Miley Cyrus' Sister Shuts Down Liam Hemsworth Marriage Rumors, Crushes Dreams
REX/Shutterstock
Noah Cyrus just came in like a wrecking ball and demolished any hope we had that Miley Cyrus and Liam Hemsworth secretly got hitched recently.
According to Miley's little sis, the pop star and her famous boyfriend are still unmarried, but who knows for how long!
After the media and fans have been buzzing this week about the possibility of Miley and Liam getting married, Noah Cyrus set the record straight.
She told Entertainment Tonight in no uncertain terms that her sister still hasn't tied the knot:
She's not married.
In case you haven't been following all of this crazy are-they-or-aren't-they-married news, it all started over the weekend when Miley's dad, Billy Ray Cyrus, posted a photo of Miley in a white dress, and wrote that he's so happy that she's happy.
The photo immediately sparked rumors that Miley had finally gotten married to her fiancé Liam Hemsworth, but Billy Ray went on to warn his followers not to "jump the gun" in a follow-up post on Instagram.
However, since Billy never actually flat-out denied the marriage rumors when he easily could have, we were all still left guessing.
Thankfully, Noah is here to give us the facts: Miley's not married yet, and she says Billy Ray was "just having fun" with his confusing posts.
Although Miley looked like she may be wearing a wedding dress in Billy Ray's original photo, now it's starting to seem more like it may just be a scene from an upcoming music video.
Billy Ray uploaded another shot of Miley in a white gown, but captioned it, "Excited to hear more of the new stuff."
Come on, Billy Ray! You've really got to be clearer when you upload photos like this.
And looking more closely at the reflection in first photo, it appears as though Miley snapped the pic of herself on a camera screen and sent it to her dad — it's most likely she was watching an unreleased music video and wanted to share it with Billy Ray.
So... I guess there hasn't been a wedding just yet, but at least Miley Cyrus fans can expect some new music!
And a wedding must be just around the corner for Miley and Liam. I mean, they've been engaged for over a year now. We'll just have to keep a close watch on them.
Citations: EXCLUSIVE: Noah Cyrus Shuts Down Miley Cyrus and Liam Hemsworth Wedding Rumors: 'She's Not Married' (Entertainment Tonight)