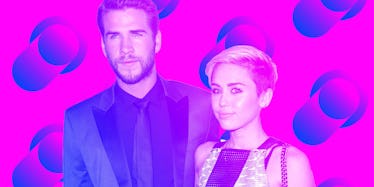 Here's What We Know About Miley Cyrus And Liam Hemsworth's Wedding
REX/ Shutterstock
After confusing everyone with their on-and-off relationship this year, Miley Cyrus and Liam Hemsworth might actually be looking to finally tie the knot.
Now, that's not too surprising at this point... I mean, they're clearly obsessed with each other!
But what might be just a bit more shocking is that 23-year-old Miley Cyrus wants to make sure her affair isn't the 300-person, super-lavish wedding we all expect her to have.
A source told US Weekly that Miley wants to have a "small wedding" when she eventually marries 26-year-old Australian actor Liam Hemsworth.
That same source confirmed that the current planning of the special day is "going great."
According to Harper's Bazaar, the insider also claims that Miley wants to have the wedding on a beach in Australia.
That makes perfect sense since, well, that's Liam Hemsworth's homeland and all.
Perhaps one of the coolest wedding details to surface is that Miley and Liam reportedly DON'T want wedding gifts.
Instead, they'd like guests to donate to a charity of their choice.
That will make for the perfect opportunity for family and friends to donate to Cyrus' Happy Hippie Foundation, a non-profit organization that aims to help homeless and at-risk LGBTQ+ youth.
I'll admit, it's pretty awesome to see Miley and Liam in such a good place after calling it quits for two years.
We'll just have to wait and see when their special day will actually take place and what they have in store for each other AFTER tying the knot.
Citations: Miley Cyrus Is Already Making Wedding Plans (Harper's Bazaar)