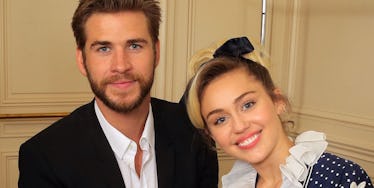 Miley Cyrus Isn't Into Engagement Rings, But Wears One For Liam's Sake
REX/Shutterstock
Miley Cyrus' wardrobe is anything but classy, and that's the way she likes it.
The eccentric performer has made it apparent over and over again vibrant colors and kinky getups are her thing, and she rocks those looks like no other.
Most of the time, her outfits scream "controversy" and are filled with loud colors, cartoon characters and bold sayings.
Sometimes, she's not wearing anything at all.
But, there is one item Miley wears on the reg that stands out against the colors: her engagement ring.
Cyrus recently admitted on "Ellen" the only reason she wears the gold ring is for Liam Hemsworth.
On Thursday, DeGeneres brought up her controversial Instagram post that features Cyrus making a grossed-out face while showing off the bling.
Miley brought the ring back out after the couple resumed their engagement, which was reportedly called off for two years.
But she still doesn't think the ring fits her "aesthetic" and explained how it clashes with the gummy bears and cotton candy she's used to wearing. She said,
This is really weird because this is like real jewelry and most of my jewelry is made out of gummy bears and cotton candy, and they don't look that good together because they kind of mix up, so sometimes I replace it with an actual unicorn or a Looney Tune.
Looney Tunes are definitely cooler than diamonds, if you ask me.
Like any other normal fiancé, Liam grows concerned when Miley takes her ring off. According to her, he's got nothing to worry about.
She said,
And he's kind of like, 'What's going on?' It's like, 'Well, this isn't really my aesthetic, but I'll wear it because you love me.'
What a champ, Miley. Wear it in the name of love.
I guess Liam could've saved a bunch of money if he had known she'd rather rock a gold-plated gummy bear than a gold-plated band with a big diamond.
Oh well. You live and you learn.
Citations: Miley Cyrus Addresses Her Engagement Ring From Liam Hemsworth: "This Isn't Really My Aesthetic" (E! News)