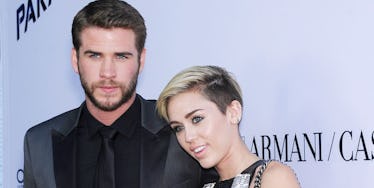 Miley Cyrus Showed Off New Bling On Her Ring Finger, And We're So Confused
REX/Shutterstock
Honestly, who knows what the heck is going on with Miley Cyrus and Liam Hemsworth at this point.
I mean, they're together again? I guess? And engaged? Maybe?
Except now Miley posted an Instagram selfie showing a ring on her wedding finger, so maybe they already secretly got married? Or got engaged again-again, with a new ring?
IT'S SO CONFUSING!
So like, is that diamond-studded gold band a wedding ring, a new engagement ring or just some purely decorative bling?
Liam bought an engagement ring for Miley back in 2012, but then the couple called it quits a year later.
Now they are hanging out all the time, and sources say the two are happily back together. And supposedly the two are engaged again.
Miley did post this Instagram of a ring back in February.
So if THAT'S the engagement ring, then this new ring is the wedding ring! Probably! Maybe? I'm really not sure.
Last I heard, Miley and Liam were planing to get married on the beach, and they were both seen together in Malibu on the same day of this new ring post.
Well, props to these two for being the most mysterious couple in Hollywood.
Citations: Miley Cyrus Flaunts Mysterious New Ring on That Finger, Steps Out With Love Liam Hemsworth (PEOPLE)