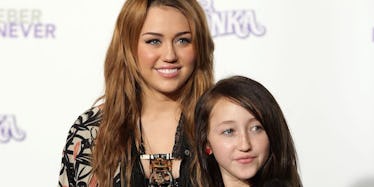 Miley Cyrus Supported Her Sister In The Cutest Way At The iHeartRadio Awards
REX/Shutterstock
Mary-Kate and Ashley, Kendall and Kylie, Venus and Serena, Gigi and Bella, my younger sister and me -- the world has no shortage of iconic sister duos.
However, not every pair of sisters has the opportunity to introduce their best friend's performance on stage in front of millions of people.
Tonight, March 5, at the iHeartRadio Music Awards in Los Angeles, Miley Cyrus introduced her younger sister, Noah Cyrus, for her first-ever award show performance.
Miley, who has never been shy about literally anything, stood on stage wearing a shirt and holding a sign that said "I <3 Noah Cyrus," forever putting my recent Instagram caption for my sister's 21st birthday to shame.
Miley effortlessly and emotionally announced her sister by saying,
Alright you guys, I am really excited because this next performer is, without a doubt, the coolest person that I know. Her voice, oh my god, her voice is amazing. Her song writing is beautiful and totally relatable, she knows exactly what I'm going through. She is who she is as an artist. I cannot wait for the entire world to get a load of her vision. She's who I want to be when I grow up, and that's saying a lot because she's a lot younger than me. So get ready, everybody, because 2017 is about to be Noah's year. Tonight, she is joined by the incredibly talented Labrinth, give it up for my favorite person in the entire world, my little sister Noah Cyrus. 
With an intro like that, the audience was expecting a lot out of Noah's big performance. Luckily, the 17-year-old singer-songwriter did not disappoint.
Now THAT gave us chills. @noahcyrus@labrinth#iHeartAwardspic.twitter.com/S6le2egwwr — TBS Network (@TBSNetwork) March 6, 2017
Noah sang her song "Make Me (Cry)" with Labrinth, clearly making her family, who cheered her on from the audience, proud.
Watch Noah's full music video with Labrinth below and make sure to check Elite Daily for more iHeartRadio Awards content throughout the night!