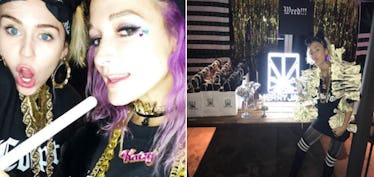 Miley Cyrus Threw A Weed-Themed Birthday For Her Sister And Liam Hemsworth
Instagram
Miley Cyrus and Wayne Coyne make up, perhaps, the weirdest friend group ever — but that doesn't mean that I wouldn't give up my right arm to party with them.
On January 13, Miley hosted a weed-themed party for her sister Noah, 17, her boyfriend Liam, 27, and Flaming Lips singer Wayne Coyne, 56.
Despite the almost bizarre age difference between the three, Miley celebrated each of her favorites in unison and dubbed the party N.W.L., after hip-hop group N.W.A., famous for its song, "Straight Outa Compton."
Their Compton-vibe party paired perfectly with favors from Merry Jane, a media lifestyle company founded by Snoop Dogg. Miley struck a pose near a table of Merry Jane party favors, dressed in heavy gold chains with a joint hanging out of her mouth.
OK so let's back up and get a few things straight here: Weed was legalized in California as of January 2017. Miley's younger sister Noah just turned 17, which definitely means she can't legally smoke yet.
Miley is best friends with Wayne Coyne after collaborating with the Flaming Lips on her latest album, Miley Cyrus & Her Dead Petz. Wayne Coyne was a '90s frontman with his band The Flaming Lips, which have had a steady career since their grunge hayday, with songs like "She Don't Use Jelly," (1993) and in 2002 with "Do You Realize?"
Coyne is 56 and is dating Katy Weaver, who is at least 30-something years younger than him. Katy and Wayne live in Oklahoma, and Katy founded the brand Wicked Hippie, which specializes in face jewels and googly-eyed false eyelashes (often worn by Miley Cyrus).
Katy and Miley have since become BFFs, and the duo — plus Wayne — rock multiple matching tattoos, including one of Miley's deceased dog Floyd.
Oh! Also, Noah Cyrus is now trying to follow in her big sister's footsteps and be a singer. The mini-Miley recently released her first "grown-up" song with singer Labrinth in November.
OK is everyone caught up? Great!
No matter the circumstances that brought them together, it's clear the group of "hippies" have a lot of love for each other.
They took turns posting emotional Instagrams over the weekend, but perhaps the cutest was Miley's post for fiancé Liam, who somehow sits pretty during all the insanity and loves Miley no matter what — even when she is wearing a pink animal onesie and popsicle-shaped sunglasses.
If that's not #goals, I'm not sure what is. After all, it's every eccentric gal's dream to date a normie who let's her be her authentic self.
Miley and Liam began dating in 2009 after meeting on the set of their film "The Last Song." After breaking off their engagement, just before Miley emerged as a weed loving hippie for her Bangerz album in 2013, the pair has recently reconciled and are once again, celebrating their engagement. 
Happy birthday to Miley's three favorite people, Liam, Noah and Wayne Coyne.
Citations: 'Thanks Uncle Snoop!' Miley Cyrus poses by a marijuana bar at weed-themed birthday party for boyfriend Liam Hemsworth (DailyMail.com)