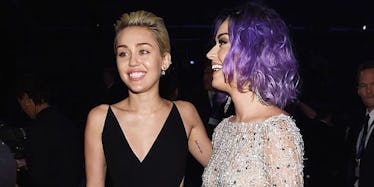 Miley Cyrus Reveals How She Became BFFs With Katy Perry And The Story Is Insane
Getty Images
Oh, you think you have a pretty good best friend story? How good is it? Like, Miley Cyrus and Katy Perry locking lips good?
I DIDN'T THINK SO.
The "Malibu" star recently sat down to talk with WKTU's Cubby and Carolina Bermudez, and spilled the beans on her long-lasting friendship with gal-pal Katy.
The story is wild, and includes everything from kissing, to limos, to four-wheelers to Hannah Montana and back again, so buckle up.
Miley spoke about how she and Katy met roughly ten years ago, and how that is basically an eternity friendship in Hollyweird.
She said,
We were actually just realizing the other day that next year, we'll have been friends for 10 years. I think that's my friend that I've known the longest. Which is really, really weird! That's like a really long time.
Apparently, it all started when Katy's famous "I Kissed A Girl" came out, rocking radios and young people's sex lives everywhere. Miley says she was riding her Dad's four-wheeler when she heard an interview with Katy on the radio.
When she came out with 'I Kissed a Girl,' I was doing the Hannah Montana movie, and I heard her on the radio. They said, 'Who did you write that about?' She said me... I screamed and started freaking out.
From there, the friendship quickly snowballed into a date to the VMA's together, though Miley's mom Tish was essentially a little bit suspicious of her daughter's new friend.
... [Katy] asked me to go to the VMAs with her. That's when I started doing my whole VMA controversy. I was like, 'I'll go with Katy Perry!' [Tish] didn't want me to go by myself. You know — like stranger danger. So, my mom went with me in the limo with Katy Perry.
Not a bad way to kick off a life-long friendship.
Today, the celebrity BFFs still support each other, rocking out to Katy's latest single "Bon Appétit" and Miley's "Malibu."
Katy even tweeted her praise and support to their combined millions and trillions of followers.
Catch their respective hits below and soak up some of that supportive, bestie, female love!
"Malibu"
"Bon Appétit"
Citations: Miley Cyrus Reveals Katy Perry Is Her Oldest Friend in Hollywood (E! News)