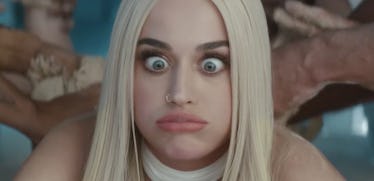 Katy Perry's Video For 'Bon Appétit' Is Here And It's Seriously Cringeworthy
YouTube
Oh, man.
Katy Perry's music video for "Bon Appétit" featuring Migos is finally here, people... and I -- I just have so many questions.
The song itself is already really sexual, with lyrics that read,
'Cause I'm all that you want, boy All that you can have, boy Got me spread like a buffet Bon appétit, baby Appetite for seduction Fresh out the oven Melt in your mouth kind of lovin' Bon appétit, baby
So I guess the video had to live up to those expectations.
The video starts off with Katy in a nude bodysuit, laying in what looks like a bed covered in plastic. A team of chefs walk in and pierce the plastic, grab Katy and remove her from her "packaging." This seriously reminds me of a baby being ripped out of the womb or something. (Too graphic?) OK, LET'S MOVE ON.
Katy is then thrown into a big bed of flour.
By now, we get the imagery that Katy is a piece of meat and the chefs are prepping her to be eaten.
The chefs start massaging Katy, stretching and turning her limbs in ways they DEF shouldn't be going.
She also makes some creepy faces during this little montage that make me feel v frightened.
The next step in the cooking process is obviously getting covered in vegetables.
Mmmmm, fresh herbs!
Now, THE BEST PART! She slides off the chopping block into a frickin' POT OF WATER.
I'm sweating just watching this happen.
She also gets her hair braid chopped off for some reason.
That intense scare, though...
After she's cooked thoroughly, she's served to Migos in a strip club and miraculously turns into a dancer.
Cool, cool, cooooool. Totally get it.
Finally, she makes this scary, scary face while preparing to eat the chefs that cooked her.
Thanks for this imagery, Katy! I'm gonna sleep great tonight.
Citations: Katy Perry Gets A Flour Rub Down & MORE In Her Bon Appétit Music Video — Watch The Visual Food Porn HERE! (Perez Hilton)