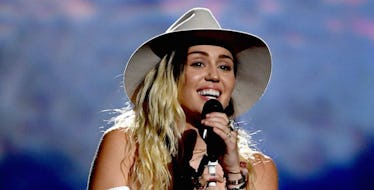 Miley Cyrus Breaks Down While Performing 'Malibu' At 2017 Billboard Music Awards
Ethan Miller / Getty Images
Miley Cyrus has left the leotards and and pasties behind -- for now.
Since debuting her love-inspired single, "Malibu" last week, Cyrus has adopted a more toned-down persona.
The last time Cyrus performed at the Billboard Music Awards was in 2014, alongside the Flaming Lips, led by Wayne Coyne. This was pique Miley Cyrus freak time. The two donned neon face paint and sang "Lucy In The Sky With Diamonds" while wearing silver and gold curtain-like jackets.
But now, Miley is back to releasing new music, and is stripping her stage persona back to the basics.
Her music video for "Malibu" features a makeup-free Cyrus skipping through a beach and singing lyrics like, "But here I am, next to you/ The sky's more blue in Malibu."
Miley's dad, Billy Ray Cyrus, thinks the stripped-down version of Miley reflects the singer coming full circle, and back to her roots.
He told Elite Daily,
I love 'Malibu' and Miley's album… When I listen to it, I hear a lot of her roots. I hear a lot of the influences that I heard her playing as a little girl… you know, that she would… back in the day, maybe put on a CD as we were driving back and forth to the set of 'Hannah Montana' and she would be playing, you know, Eddie James and Johnny Cash… and all these great artists that a lot of kids at that time weren't listening to… I hear a lot of those influences in what she's doing now, and I'm loving it.
Miley's Billboard performance tonight was just as clean, crisp and soaked in love as her music video. She wore a wide floppy hat and a white off-the-shoulder top with white cutoff shorts as her video played on the big screen behind her.
Miley's sister Noah and Billy Ray Cyrus introduced the singer, and Noah commented, that this was the first time the singer would be performing with pants on.
Tonight Miley had no nominations.
Watch the entire performance below.